One of the great attractions of Dominican tourism is undoubtedly its gastronomy, since its preparations are a sample of the diversity of flavors and products that this beautiful country has to offer. 
The exquisite Dominican gastronomy is evidence of the mixture of cultures of the Tainos, Africans and Spaniards, as well as others that arrived throughout our history. This interesting mixture is enriching and palpable in the delicious flavor that can be tasted with each specialty.
 
Dominican food has some similarities with that of the different Spanish-speaking countries with coasts in the Caribbean, however, it has its slight variations and own dishes that enrich its cuisine.
Its stoves prepare a whole gastronomic diversity with unmissable delicacies that you should try on your next visit. Join us to enjoy more of Dominican cuisine through these 5 emblematic dishes.

Rice with beans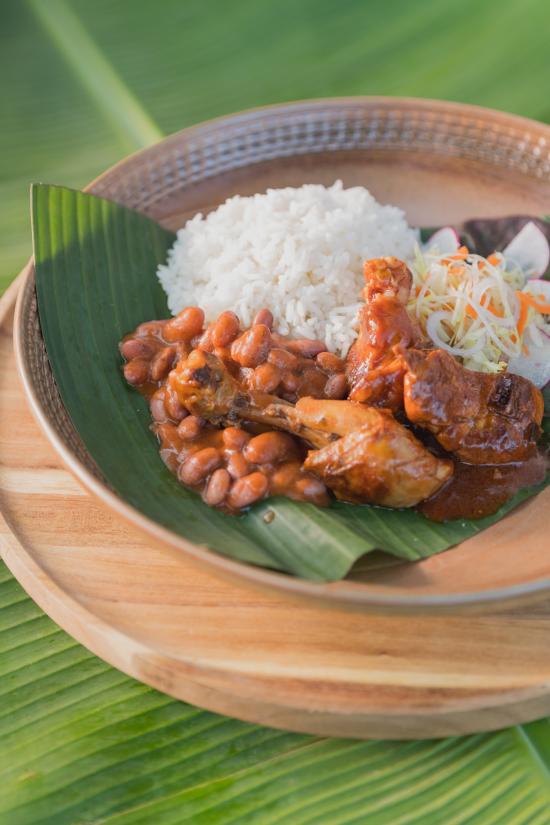 The delicious "Bandera Dominicana" (Dominican Flag) is a combination of white rice, beans, stewed chicken, beef or pork. This dish is considered a true delicacy by tourists and is a gastronomic insignia. It's a colorful dish that refers to the national flag. The red is represented by the beans, the white by the rice, and the meat (usually chicken or beef) represents the third color.

Sancocho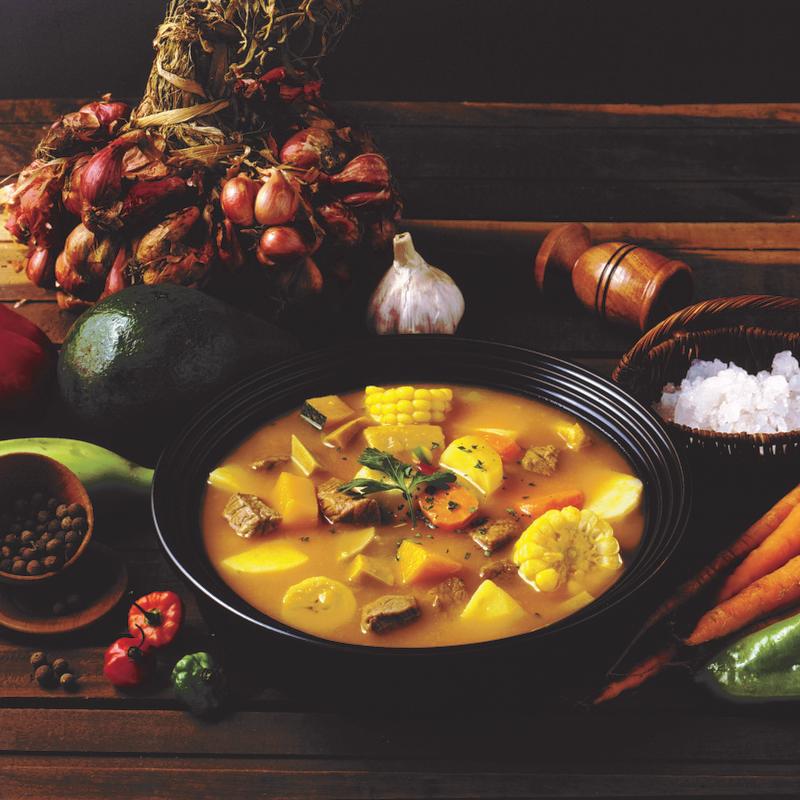 Sancocho is one of the most iconic dishes of the Dominican Republic.  In essence, this stew is a broth that combines several ingredients, and although in each country it has a special seasoning, in Quisqueya its main difference is the use of the 7 meats.
Dominicans are so splendid that our sancocho is made with 7 different types of meats, which, mixed with tubers and different vegetables, form a most succulent compound, which is why the Dominican Sancocho stands out among other Caribbean countries.  
It is worth mentioning that this stew is the dish most enjoyed by Dominican families on special occasions, so more than a dish, it becomes a celebration.

Mofongo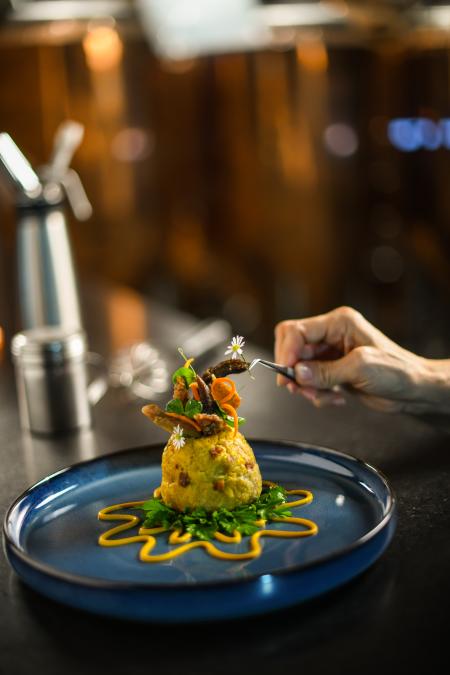 Mofongo is another of the most popular dishes in Dominican kitchens. Its origin is African, a living example of our rich cultural heritage. We islanders have added it to our menu, and it is among the favorites. Although it can be found in Puerto Rico, Dominicans give it our special touch. Its preparation is very easy, and the ingredients are very inexpensive. 
The preparation of this popular and delicious dish is based on fried green plantain, mashed in a pestle and mortar, adding garlic, olive oil and pork rinds. 
Con el paso de los años han surgido algunos cambios en su preparación y entre sus ricas versiones es posible hacerlo de yuca, plátanos maduros, ñame o una variación combinada de yuca, plátanos verdes y plátanos maduros llamada Trifongo. Además, se puede cambiar su relleno por pollo, mariscos, o camarones y se puede servir cubierto de queso o de crema de hongos. Este plato está presente en todos los menús de los restaurantes del país.
Over the years there have been some changes in its preparation and among its rich versions it is possible to make it with cassava, ripe plantains, yams or a combined variation of cassava, green plantains and ripe plantains called Trifongo. In addition, its filling can be changed for chicken, seafood or shrimp and it can be served covered with cheese or cream of mushroom. This dish is present in all restaurant menus in the country.

Fried fish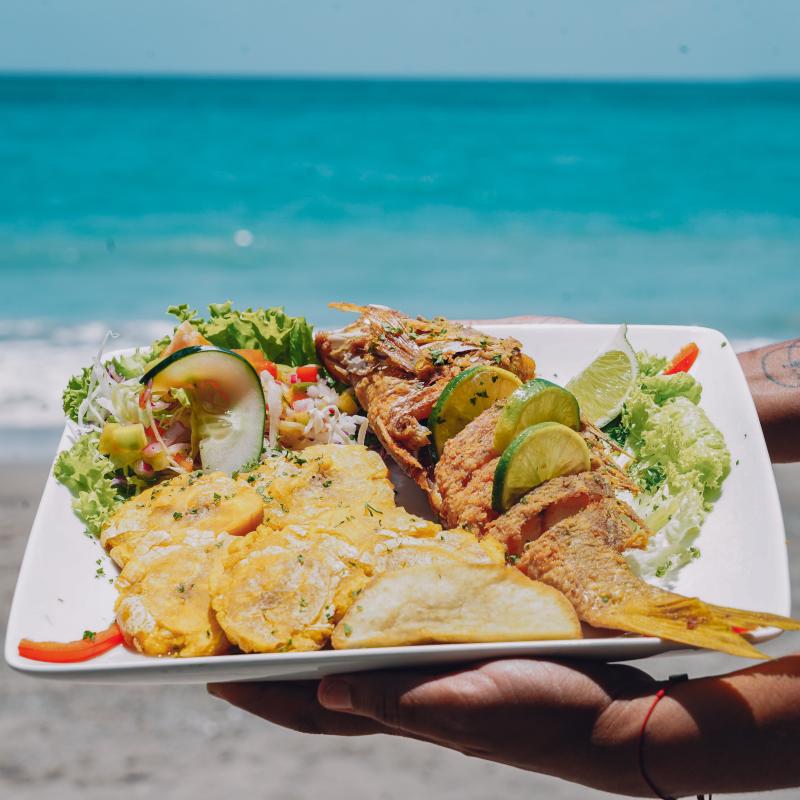 Fish is one of the dishes with the most flavor of the Caribbean. It is a typical dish of the coasts of the Caribbean countries. The excellent combination of super crispy fried fish and crunchy green plantain tostones is always present on the beaches, where the catch of the day is served.
This dish is considered a true Dominican delicacy and is served in restaurants all over the country. There is a wide variety of fish available. No matter which one you choose, the combination of simple but delicious seasonings and the freshness as it goes from the sea to your plate will make your tastebuds dance with joy.

Grilled octopus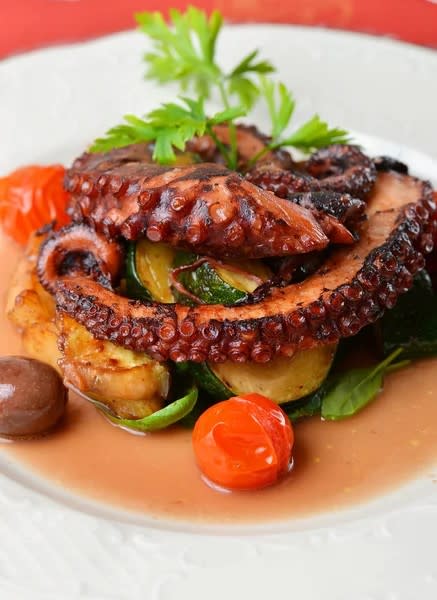 Grilled octopus is one of the typical dishes of one of the most classic and ancient gastronomies in the world, the Greek. And in the Dominican Republic we have adopted it and made it ours for the enjoyment of all diners who visit us.
 
This is another of the sea-flavored dishes that reign in Dominican restaurants. Its success lies in its quality, but above all in the good cooking and the seasoning with which it is served. 
Although it does not require a high level of cooking knowledge, the technique in its preparation guarantees the softness of the mollusk, and to taste the quality of the dish, the octopus must be fresh. The simplicity in its preparation makes it perfect, besides being an excellent appetizer for special occasions.