If you're looking for a place to unwind, the search is over: the Dominican Republic is just what you need and plenty more! It is a very special place indeed. It's the perfect destination to find your Zen thanks to its surprising variety of stunning natural attractions, unique accommodations, and life-changing experiences. No matter which Dominican tourist destination you choose, you will be surrounded by good vibes and people that share the same passion as you.
Dominican Republic is easily accessible. It boasts seven international airports, five cruise destinations, a variety of marinas for boats and yachts, and domestic airstrips for private planes and charters. It is also well served by vast, modern highways connecting its major cities and coastlines, and linking the most popular tourist destinations. In good condition, they reveal the country's glorious scenery. 
The DR has the tallest mountains of the Caribbean, unspoiled beaches, beautiful rivers, lush rainforests, spectacular waterfalls, towering cliffs, mysterious caves and even sand dunes, besides a rich culture and mouth-watering gastronomy. 
In recent years, the pursuit of wellness has become a global phenomenon as people seek to find balance, rejuvenation, and inner peace in their lives. There's no shortage of reasons why you will feel at peace with the Earth and obtain the perfect balance of body, mind, and soul here. Join us as we embark on a journey to explore the wellness wonders of the Dominican Republic.
Wellness-Focused Resorts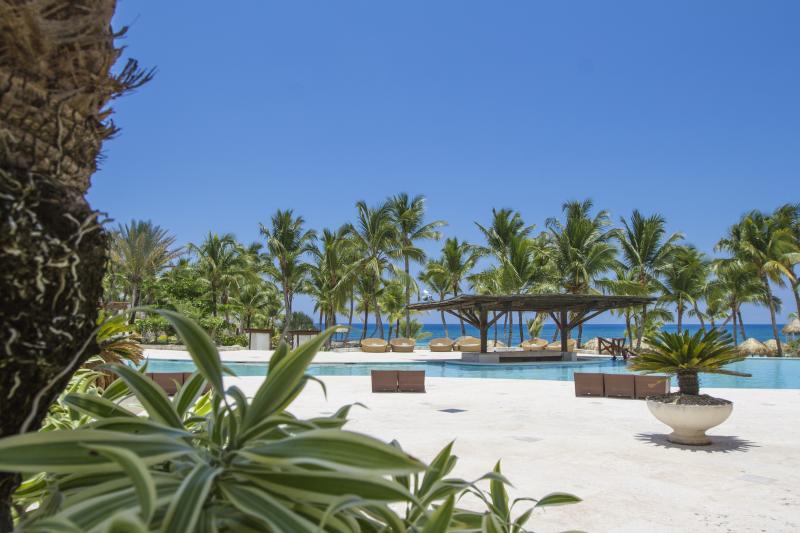 PUNTA CANA
Meliá Punta Cana Beach
This wellness resort for adults only places a strong emphasis on soulful well-being. It offers a unique concept centered around five distinct spaces—Social, Silent, Sensory, Culinary, and Personal—to nurture the soul through relaxation, reconnection, healthy eating, and self-care. The "Healthy Traveler" experience offers vegan and vegetarian diet programs as well as detox cocktails. Social Spaces provide opportunities for guests to engage in activities that promote well-being and connection, such as yoga, meditation, group bike rides, workshops in the botanical garden, and local culture workshops. Meliá Punta Cana Beach is dedicated to guiding guests toward a heightened awareness of their mind, body, and soul, offering a comprehensive well-being experience. 

Eden Roc Cap Cana
This unique and secluded property, located in the exclusive beachfront community of Cap Cana in Punta Cana, offers an exquisite experience. As the Dominican Republic's only Relais & Châteaux member hotel, it is part of an exclusive collection of charming hotels and gourmet restaurants worldwide, committed to providing exceptional moments of harmony and a celebration of the senses. It incorporates self-care, exercise, nutrition, and enjoyable activities to enhance your daily life. Whether you seek relaxation or a wellness-centered getaway, it offers a renewed sense of life for you and your family. Wellness at the resort goes beyond exercise, allowing you to indulge in activities you enjoy, such as cooking classes, kayaking, or beach bike rides. Additionally, the redesigned menus offer a taste of global cuisine tailored to a healthy lifestyle, allowing you to savor the flavors of cultures from around the world guilt-free. 

Zoëtry Agua Punta Cana
It offers an intimate and luxurious getaway that prioritizes personal well-being. Each aspect of the stay is meticulously designed to connect guests with the local culture, natural beauty, and unique location of the boutique luxury resort. With a range of authentic gourmet cuisine, restorative spa treatments, and dedicated personal service, every need is thoughtfully anticipated. Located in Uvero Alto, Punta Cana this AAA Four Diamond award-winning sanctuary seamlessly blends the region's natural beauty, five-star luxury, eco-friendly practices, and rich cultural traditions. The Zoëtry Spa provides a haven for relaxation and rejuvenation, featuring Finnish and steam saunas, Inox bubble beds, Sensation showers, and a selection of indigenous body treatments, facials, and massages using local fruits and flowers. Guests can immerse themselves in a well-deserved spa escape, indulging in pampering services that wash away daily stresses. From couples' massages to individual treatments with nourishing elements like bamboo and marine algae, guests leave feeling completely relaxed and refreshed.

LA ROMANA 
Casa de Campo Resort & Villas
Located in La Romana, it offers a luxurious and holistic retreat amidst captivating coastal surroundings. With its commitment to well-being, world-class amenities, and lush tropical landscapes, it provides a haven for rejuvenation and balance. Indulge in the pinnacle of luxury with its prestigious spa services and state-of-the-art technology. It offers a range of wellness activities that invigorate the body and mind. It also offers outdoor adventures and nourishing culinary experiences, ensuring a comprehensive approach to well-being. Immerse yourself in the serene ambiance of this tropical paradise and embark on a transformative wellness journey at Casa de Campo Resort & Villas, where tranquility and revitalization await. 

SAMANÁ
Cayo Levantado Resort
This resort offers a serene and welcoming atmosphere. It incorporates local culture, sustainability, and holistic well-being to provide a distinctly Dominican experience. Superior amenities, gastronomy, and personalized service elevate each guest's vacation to a meaningful personal journey. The wellness area, with its four paths of REFRESH, RESTORE, RELAX, and RENEW, caters to guests' individual needs, and includes a pool, slow food restaurant, spa, outdoor crossbox, and personal training studio. The expert staff combines exercise, meditation, activities, and nutrition to guide guests towards a vital rhythm that aligns with the vibrant surroundings. Cayo Levantado Resort offers a unique and transformative experience where every aspect is designed to create a memorable and meaningful stay.

Sublime Samaná Hotel & Residences
In this luxurious property, member of Small Luxury Hotels of the World, you can enjoy a wide range of wellness amenities and activities to enhance your overall well-being. Indulge in rejuvenating spa services, engage in yoga and meditation sessions, and stay active at the fitness center. You can also participate in outdoor activities, savor healthy dining options, and relax by the pool or beach. The hotel offers complimentary wellness and fitness options such as a 24-hour fitness center, yoga and meditation classes, Pilates classes, tennis and basketball courts, and aquatic activities.

MICHES
Club Med Michès Playa Esmeralda
This casual yet elegant eco-chic paradise is set on 93 acres of a lush palm grove along pristine beaches. Enjoy elevated entertainment, wellness fusion programming, and a wide range of water and land sports. Explore the natural wonders of Miches through exciting excursions. Club Med's Wellness Fusion program provides a comprehensive approach to mental and physical well-being, combining healthy nutrition, active sports, yoga, meditation, spa relaxation, and connection with nature. This all-inclusive program aims to help you recenter your mind and body, create balance, and leave feeling fulfilled, inspired, and renewed. This is a luxurious jungle playground for couples and families to create lasting memories through extraordinary experiences.

MARÍA TRINIDAD SÁNCHEZ
Amanera
Discover the captivating Amanera, a clifftop retreat offering breathtaking panoramic views of the DR's north coast beaches. With its stunning location between jungle and the Atlantic Ocean, the resort provides unparalleled access to water sports and immersive experiences that showcase the vibrant local culture. Enjoy guided nature hikes and holistic massages. Engage with nature, explore ancient Taíno wisdom, and restore your energy through moonlit yoga, sound healing sessions, and cooking classes using traditional Taíno herbs. Each day at Amanera offers sensory-stimulating experiences, from serene walks to rejuvenating spa treatments, creating a transformative journey that brings balance to your daily life. Immerse yourself in nature's beauty and cultural traditions for a truly unforgettable experience.
World-Class Spas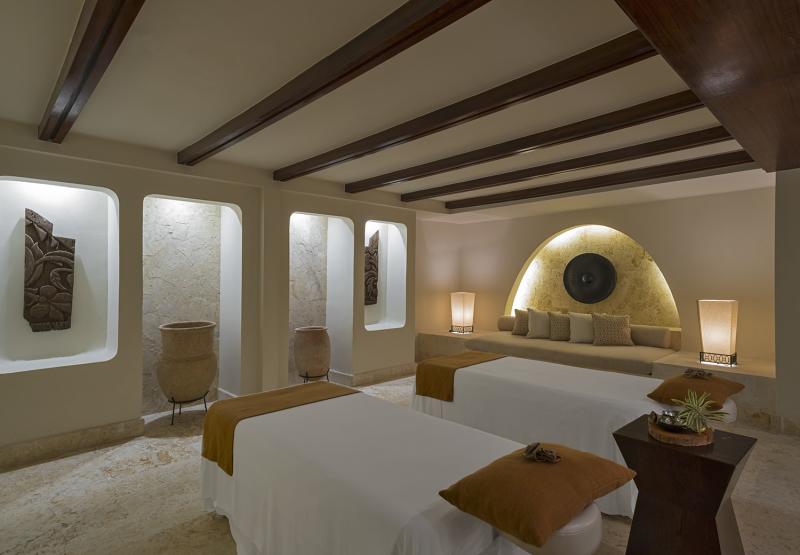 (Photo credits Puntacana Resort & Club) 
In the Dominican Republic, wellness and indulgence go hand in hand, and the country's world-class spas embody this harmonious blend. Whether you seek holistic therapies, luxurious treatments, or a serene escape, the DR's spas offer a haven of tranquility amidst breathtaking settings. The serene ambiance, soothing music, and aromatic scents create an atmosphere conducive to relaxation and tranquility. So, allow yourself to be pampered, rejuvenated, and to escape the stresses of everyday life as you embark on a journey of ultimate bliss. Your wellness journey awaits in the Dominican Republic. 
PUNTA CANA
YHI Spa at Meliá Punta Cana Beach:
It is a renowned sanctuary of tranquility and rejuvenation. From the moment you step into the spa, you start living the expertly planned experience designed for your complete relaxation and enjoyment. The spa's simple and natural atmosphere utilizes local and sustainable materials, offering a range of treatments that incorporate Dominican elements like coffee, cocoa, and sugar. With private rooms for individual and couple massages, a state-of-the-art hydrotherapy circuit, beauty salon, and rejuvenating facials and body rituals, it provides a comprehensive wellness experience. All products used in the spa are local, organic, and sustainable, and the spa works with eco-friendly companies that recycle materials. Immerse yourself in serenity at YHI Spa, where you can melt away stress, find inner balance, and rejuvenate through luxurious treatments and soothing amenities.

Six Senses Spa at Puntacana Resort & Club:
This renown spa provides a tranquil environment for rejuvenating therapies delivered by an international team. It takes a pioneering and holistic approach, blending science with human awareness to offer treatments that go beyond the ordinary. With a focus on personalized service, the spa combines high-tech and high-touch elements to cater to individual needs. Whether you opt for a signature massage, hot stone therapy, or other specialized treatments, you will experience the exceptional quality that has made Six Senses one of the premier spa and wellness center worldwide. Surrender to the expertise of highly skilled therapists. Let yourself dissolve in the hands of a talented international team, as they apply their exclusive holistic techniques and the transformative Six Sphere Philosophy to restore and revitalize your mind and body. 

Eden Roc Spa by Natura Bisse at Eden Roc Cap Cana:
In this serene environment, luxury and rejuvenation await. With an exclusive collection of Natura Bissé's industry-leading products and a premium selection of massages, facials, and body treatments, it'll bring out your inner beauty. It stands out as the only spa in the western hemisphere, and one of the few worldwide, to exclusively use Natura Bissé products, renowned for producing the highest quality skincare products. Experience the Pure Air Suite, an exclusive sanctuary where the air is 99.995% pure, providing instant visible rejuvenation and inner relaxation. Choose from a range of techniques such as Swedish, deep tissue, or hot stone massages, complemented by your preferred oil for additional benefits. Create your personalized experience by combining facials with massages or body treatments, perfect for a romantic afternoon with your partner. Immerse yourself in the exquisite world of Eden Roc Spa and discover the transformative power of pure luxury and well-being. 

Zoëtry Spa at Zoëtry Agua Punta Cana:
Indulge your senses in a world-class spa experience. Relax, revitalize, and restore your well-being with a range of treatments including skincare, massages, salon services, and wraps infused with natural and local elements. An expert staff will provide unparalleled pampering, ensuring endless moments of relaxation. Immerse yourself in a well-deserved spa escape, where you can enjoy the therapeutic benefits of bamboo, sea mud, marine algae, and other nourishing elements that promote health and well-being. Whether you opt for a couple's massage or a personalized treatment, you'll leave feeling completely relaxed and refreshed. The spa also features Finnish and steam saunas, an indoor pool, Inox bubble beds, Sensation showers, luxury Natura Bissé spa products, and options for both individual and couple's pampering. Let Zoëtry Spa transport you to a world of pure relaxation and rejuvenation.

LA ROMANA 
The Spa at Casa de Campo Resort & Villas:
The exclusive Destination Spa, Health, and Wellness Center, offer over 18,000 square feet of indoor and outdoor facilities. Leading the way in the Caribbean, this state-of-the-art spa provides a unique blend of services, wellness experiences, and cutting-edge technology. The extensive hydrothermal circuit, featuring a sauna, steam bath, vitality pool, cold water pool, thermal loungers, Kneipp Walk, and outdoor pool, offers an immersive journey of relaxation and rejuvenation. Additionally, the 12 luxuriously appointed treatment rooms provide a range of hands-on experiences, results-oriented therapies, and technology-supported treatments. Casa de Campo's Destination Spa elevates the wellness experience to a new level, setting a benchmark for the region.

PUERTO PLATA
Bagua Spa at Casa Colonial Beach & Spa:
This serene oceanfront sanctuary offers a range of indulgent services overlooking the stunning northern coast of Puerto Plata. With a design influenced by Feng Shui principles, this 12,400-square-foot space provides a luxurious escape for harmony and clarity. The spa features ten private therapy rooms, including couples' rooms with Jacuzzis and terraces offering breathtaking ocean views. Skilled therapists combine indigenous healing traditions with European massage and spa practices, providing a unique and nurturing experience.

MARÍA TRINIDAD SÁNCHEZ
Amanera Spa at Amanera:
This peaceful sanctuary is surrounded by stunning natural beauty. Guests can connect with nature and tap into the divine energy recognized by the ancestral Taíno people. Through immersive journeys known as Atabey Connection and Anichi Healing, rooted in Taíno wisdom, individuals can transform their state of consciousness, discover their inner purpose, and reignite their passion for life. It also embraces the power of larimar, a rare blue gemstone believed to facilitate physical and emotional healing. Signature lunar journey therapies combine the chakra-balancing influence of larimar with a traditional Dominican palo santo smudging ceremony. Additionally, its spa experience nurtures the body, mind, and spirit. It includes rituals such as a body scrub, massage, and soothing face ritual, using natural ingredients to cleanse, restore, and re-empower. Guests can immerse themselves in transformative experiences that harmonize with the surroundings and foster well-being on multiple levels.

Ecolodges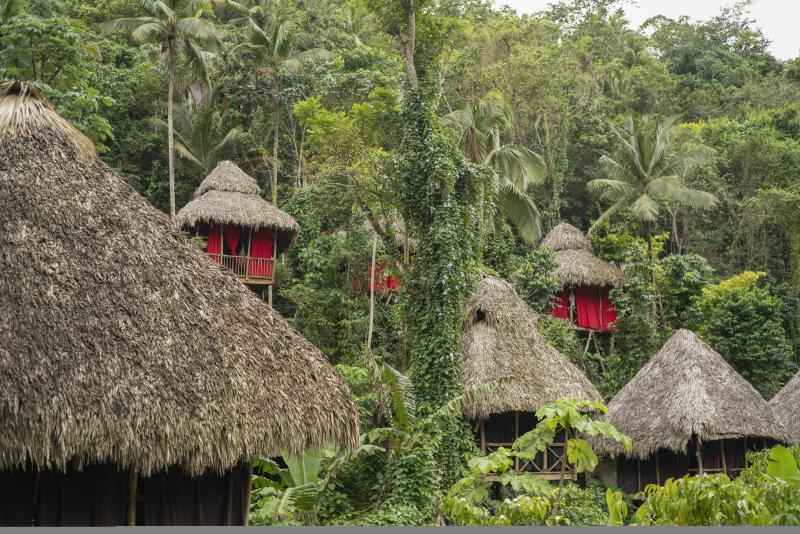 Immerse yourself in the unparalleled combination of sustainability, wellness, and natural beauty offered by the eco-lodges in the Dominican Republic. Set amidst breathtaking landscapes, these lodges provide a serene escape where guests can reconnect with nature and prioritize their well-being. With a steadfast commitment to sustainable practices, these eco-lodges curate unforgettable retreats that promote holistic wellness. Rejoice in the beauty of the DR, embrace sustainability, and embark on a transformative wellness journey that harmonizes with the environment. The following are some of the ecolodges and environmental-friendly accommodations that can be found throughout the country:
Puerto Plata
Ecolodge Tubagua Puerto Plata
El Gallo Ecolodge
Greenland Bubble Glamping
Natura Cabana
Samaná
Casa El Paraíso
Dominican Tree House Village
El Valle Lodge
Hacienda Cocuyo
Samaná Ecolodge
Samaná Ocean View Wellness Resort
Unique Exotic Hotel
Barahona
Platón Eco-Lodge
Constanza
Villa Pajón Eco Lodge
Jarabacoa
River Glamping Jarabacoa
The Sunset Jarabacoa
Montecristi
El Morro Eco Adventure Hotel
Pedernales
Eco del Mar Natural Lodge

Tranquil Wellness Retreats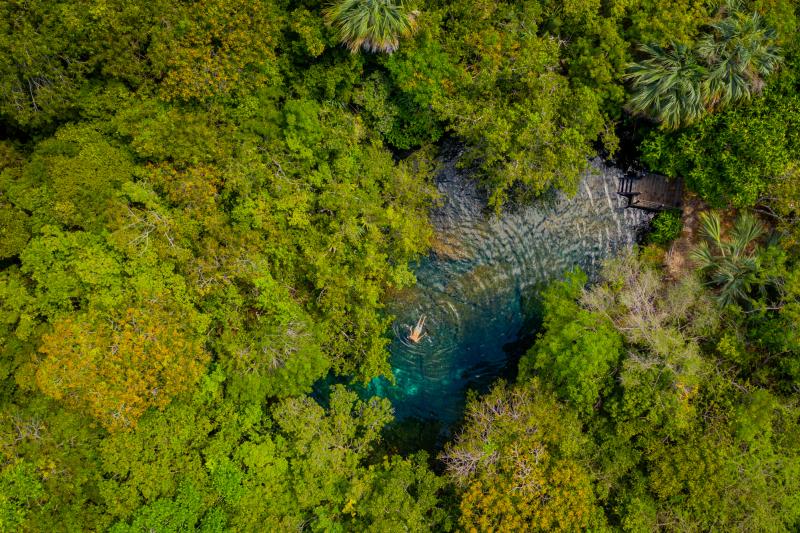 The Dominican Republic is a haven for wellness retreats, with a variety of resorts and eco-lodges offering specialized programs catered to different aspects of well-being. Whether you're seeking yoga, meditation, detoxification, or specific wellness themes, these retreats provide a range of activities, spa treatments, nutritious cuisine, and the serenity of natural surroundings for an immersive wellness experience. With its stunning landscapes and peaceful ambiance, the Dominican Republic offers the perfect setting to reconnect with nature, find inner harmony, and embark on a transformative journey of self-discovery. These types of retreats are very popular in Cabarete and in the ecolodges around playa El Valle in Samaná.
Wellness Events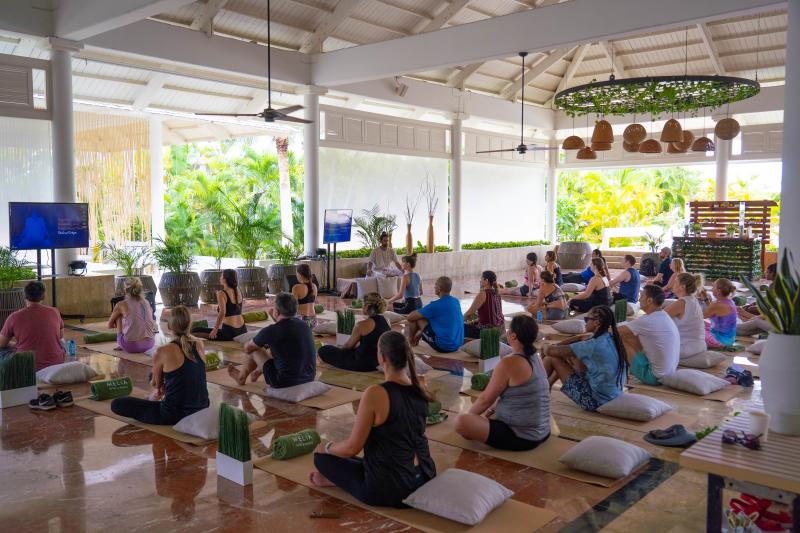 The Dominican Republic is a hub for wellness events, offering a diverse range of transformative experiences to enhance overall well-being. From yoga retreats and wellness festivals to mindfulness workshops and holistic health conferences, these events cater to various interests and provide opportunities for personal growth and rejuvenation. Immerse yourself in the vibrant wellness scene of the DR and embrace the transformative experiences in this tropical paradise. To celebrate this year's International Yoga Day, a special wellness program designed by Sadhguru from ISHA Foundation took place at the Meliá Punta Cana Beach featuring yoga and meditation sessions and talks. Similar events take place in the different tourist destinations throughout the year. 
Wellness-Focused Gastronomy
Wellness gastronomy in the Dominican Republic celebrates the country's vibrant flavors and focuses on nourishing ingredients. The culinary landscape offers a diverse range of options that cater to taste and well-being. With a farm-to-table approach, wellness retreats and resorts provide organic, locally sourced meals that accommodate various dietary preferences. The emphasis on fresh and local ingredients, rich seafood, vibrant produce, plant-based choices, and health-conscious adaptations of traditional dishes showcases the country's Taíno, African and Spanish culinary heritage while promoting overall wellness. Immerse yourself in the flavors, indulge in the local cuisine, and embrace the wellness gastronomy of this tropical paradise. 
Start Your Transformative Wellness Journey Now In A Place That Has It All
The Dominican Republic is a haven for wellness enthusiasts, offering a harmonious blend of natural wonders, cultural heritage, and rejuvenating experiences. Whether seeking tranquility in serene retreats, embracing local wellness practices, immersing in healing waters, or embarking on outdoor adventures, this Caribbean gem has something to offer every wellness seeker. So, why not embark on a transformative wellness journey to the Dominican Republic and discover a world of serenity, rejuvenation, and holistic well-being? There's no better time than now.