More Than Sun And Beach, The Perfect Setting For Getting Married 
In the eastern part of the country there is a destination that has all the qualities to make your wedding day a dream come true. Currently Punta Cana represents one of the most popular destinations to celebrate this special day among travelers, thanks to its majestic white-sand beaches, its vegetation, beautiful palm trees and crystal-clear waters.  
The romanticism, the sunset, the beautiful sound of the calm waves and the extraordinary climate that prevails in this part of the country will be some of your allies in the moment of saying "yes, I do".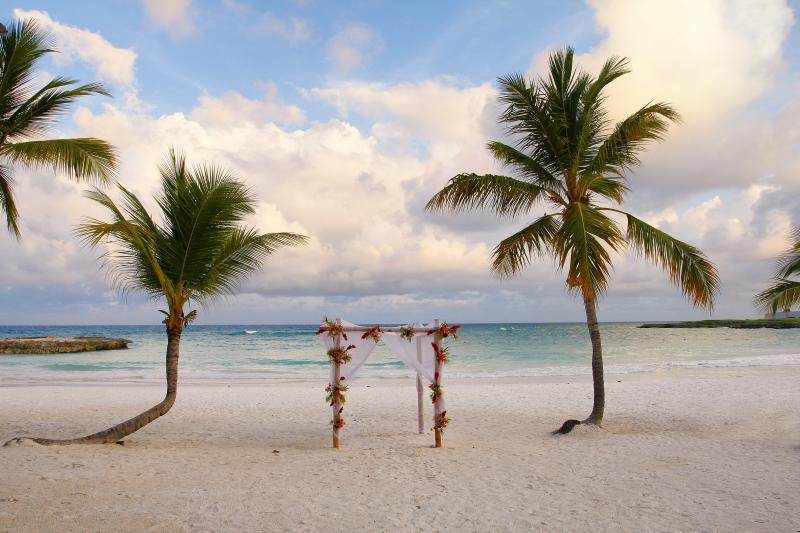 Thanks to the notorious popularity of Punta Cana, there are already extraordinary teams specialized in organizing weddings and other events. This translates into good news, since they will take all the stress involved in the organization of the wedding away from you so that everything is more relaxed, as you deserve. 
They will take care of all the logistics: the setting of the place, music during the wedding march and throughout the event, the exquisite dinner with restaurant option, great customer service for the guests and an unforgettable celebration for the night's closing.

A Few Reasons Why You Should Get Married In Punta Cana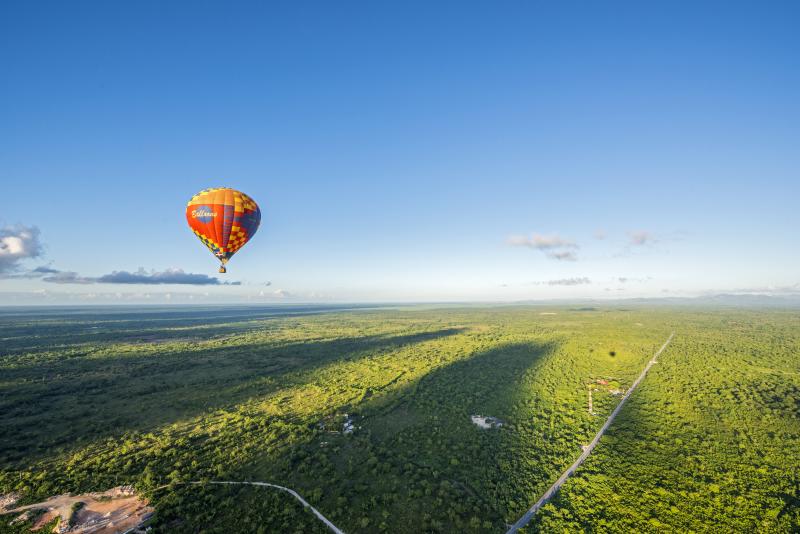 Breathtaking Photos  
Imagine your ceremony photos with beautiful views of the ocean, surrounded by sprawling palm trees and the sun setting as you say "yes, I do". You can also take spectacular romantic photographs soaring the skies in a hot-air balloon. These are just a few of the many reasons you could choose to get married in this part of the Caribbean. 

Beachside Catering
After the ceremony in a magical setting, the best way to follow up is with a toast and hors d'oeuvres. Open a bottle and delight in the gourmet catering they have prepared for the bride and groom and their guests and something unique, walking barefoot on the fine white sand as they make their way to the reception. 

Entertainment Options
There are several entertainment options for weddings in Punta Cana, including live music, fireworks, beach bonfire, professional dancers, casino night, photo booth, karaoke, magician and DJ. These options range from traditional Dominican entertainment to modern activities, ensuring that there is something for everyone to enjoy at the wedding celebration.

Fun Group Excursions
There are several tour options for a wedding in Punta Cana. A catamaran cruise, a zip line adventure, swimming in the stunning waters of Hoyo Azul or the Ojos Indígenas ecological reserve, and a safari-style truck ride through the countryside to learn about the local culture are some of the fun options available that will integrate the group.

Stay For All Your Guests 
Imagine not only sharing this day with your loved ones but having them close by during the pre-wedding and creating wonderful moments in the different amenities of the hotel you select. This is a luxury that the bride and groom could afford thanks to the fact that the hotels in this region have the capacity to receive and host hundreds of guests.

5 Hotel Options For Your Destination Wedding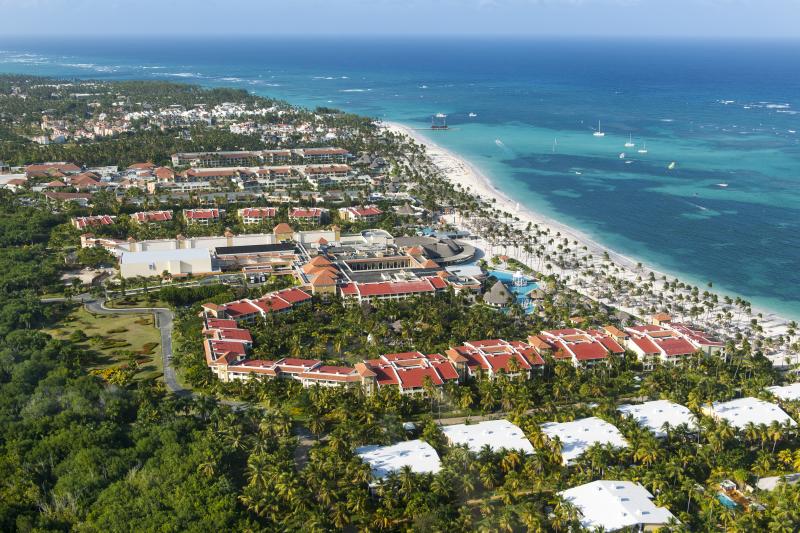 Grand Bavaro Princess Hotel
It offers couples its magnificent facilities amidst tropical gardens, authentic mangroves and the stunning Caribbean beach. All organized by a magnificent wedding team, so you only have to worry about bringing something old, something new, something borrowed and something blue.

It has a beauty salon and spa so that the bride and bridesmaids can have everything nearby, easily and comfortably. Its SPA Vitality area offers a whole program designed for the bride to cover any of the needs that may arise in such a special moment.

To make the bride and groom's stay more pleasant, romantic and comfortable, they have a Honeymoon Suite. It is a coquettish room that invites love, rest and intimacy. They also have the Honeymoon Suite Bungalow, a spectacular suite overlooking the tropical gardens, located in small villas, with a beautiful balcony or terrace and a magnificent whirlpool tub. Finally, they have the Platinum Suite, the most exclusive, located in the area closest to the beach, which has a unique service, as well as access to a private area on the beach.

Live Aqua Punta Cana
It is a space that produces a true sensory pleasure from the arrival of the bride and groom. A sense of joy is experienced from the moment they enter the luxury resort. Live Aqua Punta Cana gives you the certainty that its team will provide personalized assistance to make the organization of your wedding easy and unique and that you will live an unforgettable day with your loved ones. 

Live Aqua Beach Resort Punta Cana with its sophisticated luxury design will captivate your senses. Let them pamper you and your guests with its luxurious rooms and suites of elegant design, whose amenities may include private terraces with infinity pools. 

The most discerning palates will be captivated as they experience a world of culinary delights in its international restaurants and bars with the special menu prepared for the big day, from Italian dishes, Japanese, French, Mediterranean and Mexican cuisine to the exquisite regional cuisine of the Dominican Republic.

Lopesan Costa Bavaro Resort, Spa & Casino 
This resort loves to be part of the great moments in the lives of its guests. The wedding celebration is a very special one, that is why they have designed wedding packages taking care of every detail. A dazzling and unique location such as the beaches of Punta Cana, will be the perfect setting that you will never forget.
Their wedding packages include wedding planning services, different scenarios such as beach or garden, bridal bouquet in tropical flowers, groom's boutonniere in flowers, ceremony table, symbolic ceremony minister, symbolic ceremony certificate, sound system during the ceremony, first class wedding cake and private romantic dinner on the beach, among other amenities.

Hyatt Zilara Cap Cana
If you want to surprise your guests with a luxurious ceremony, this alternative may be for you. Hyatt Zilara Cap Cana has a ballroom of 15,403 square feet, suitable for a king and queen, which is flexible enough for spacious events. 
But rest assured, if you're looking for something more discreet, this hotel also has options for you, without leaving luxury behind. The gazebo at Playa Zilara is a good idea for exchanging your vows with inspiring ocean views. 
For those who like an open-air ambiance, the Hyatt Zilara can set up a beachside setting for you to tie the knot with the azure blue sky in the background as one of your witnesses.

Sanctuary Cap Cana 
Continuing with luxury is Sanctuary Cap Cana, which offers a varied selection of spectacular venues for your wedding. Their resorts are located in the perfect destinations for the wedding of your dreams, whether you envision an intimate ceremony just for two or a luxurious adventure for all your loved ones. 
Island Suite is one of their exclusive experiences. This 2,999-square-foot suite connects to a private tropical island. It is ideal for intimate ceremonies, small reception dinners and cocktail parties and accommodates up to 120 guests. 
The Castle Ocean Lounge is the perfect venue for a royal couple. It offers ocean and pool views; has a colonial castle backdrop and seating for 100 guests. 
The Grand Colonial Terrace is ideal if your wedding is larger. This colonial terrace has the capacity to receive about 200 guests with a spectacular breeze and a breathtaking sunset worthy to take the best pictures for the memory. 
After all of these facts and the hotel alternatives presented, it's time to celebrate the destination wedding of your dreams in the Caribbean country that definitely has it all. Celebrate your wedding in the Dominican Republic; celebrate your wedding in Punta Cana.