The Dominican Republic is full of surprises. This country is truly blessed with a diverse landscape. It has a great combination of staggering mountains, rivers, lakes, dunes and the most astonishing coastline that has among the best beaches of the world.
The mélange of Taíno, Spanish and African cultures, plus other cultures that arrived later on, created the unique Dominican culture, which is characterized by its genuine hospitality. When you come to the Dominican Republic, you will feel completely welcome in this service-oriented destination.
Throughout the country, you will find all sort of accommodations ranging from eco-friendly to upscale resorts that will cater to your every need. And having such a diverse geography gives way to countless fun activities outside the resort to create memories that will last a lifetime.
Now let's get down to business: your dream golf escapade. You have 27 world-class golf courses to choose from throughout the country that were designed by some of the game's most acclaimed course architects like Pete Dye, P.B. Dye, Jack Nicklaus, Robert Trent Jones Sr., Gary Player, Tom Fazio, Nick Price and Greg Norman. The country's challenging and stunning courses have helped the Dominican Republic maintain the status of Golf Capital of the Caribbean.
The southeast coast of the country combines picturesque beaches, luxurious hotels and resorts with a variety of exciting attractions and some of the most famous golf courses in the country. Here are the top five golf courses in the DR's East Coast. It's very difficult to choose just five because there are so many top-notch options. This is just a small sample of the DR's world-class golf courses that will be a feast for your eyes and your imagination while testing your skills with challenging and well thought out greens. Are you ready to be a golfer in a place that has it all?
TEETH OF THE DOG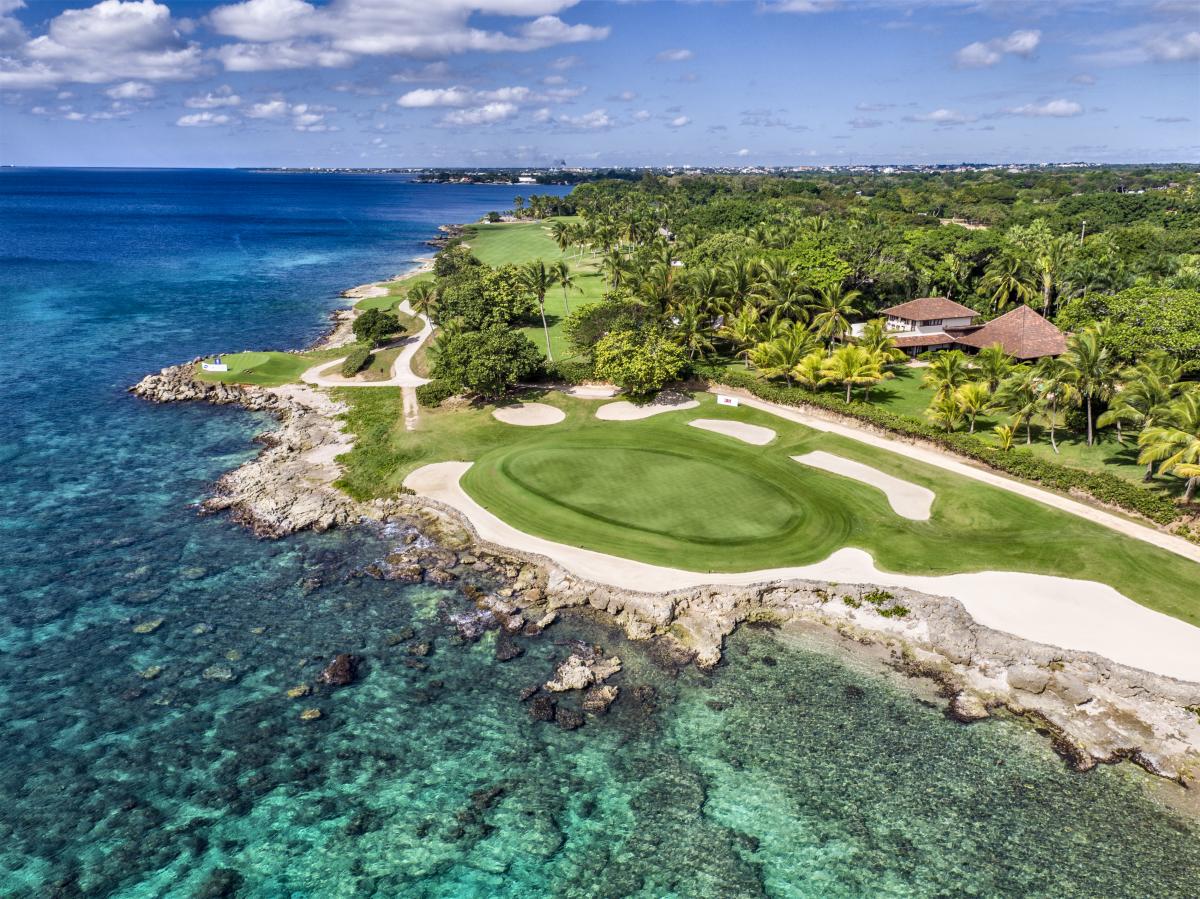 The Teeth of the Dog golf course, designed by Pete Dye, is renowned for good reason. The rugged rock and coral of the Dominican coastline were meticulously hand-carved to create this challenging and hard-fought course. With breathtaking natural scenery and historical significance, this course, ranked among the top in the Caribbean, is a must-visit destination for every golfer's bucket list.
This is a very challenging course, but the reward for your efforts will be playing 18 stunningly beautiful holes and the knowledge that you've experienced one of the world's top golf courses.
The origin of the name Teeth of the Dog is attributed to the jagged rocks on which the course was constructed. Along the coast, there are seven holes that offer stunning views and present challenging shots with waves crashing beside them. The fairways of Teeth of the Dog and Dye Fore are broad and welcoming, and the greens are elevated, undulating, and challenging to read.
This course is quite accessible, as anyone can play it comfortably off the tee. However, those with lower handicaps may appreciate the intricacies of the shots required to achieve a good score, particularly the variety of short game shots available around the greens. It is not a course where a single shot or wedge will suffice, as it requires the use of one's imagination, resulting in a delightful experience. The scenery is simply breathtaking.
Pete Dye is renowned for his innovative golf course designs, which often include tricky shots. The course can be challenging in certain areas, particularly around the greens. The remains of Pete Dye were scattered on the side of the 8th green. This shows his passion for his epic creation.
TEETH OF THE DOG
Casa de Campo Resort & Villas
La Romana
Holes: 18
Par: 72; Yardage: 7,263
Designer: Pete Dye
PUNTA ESPADA GOLF COURSE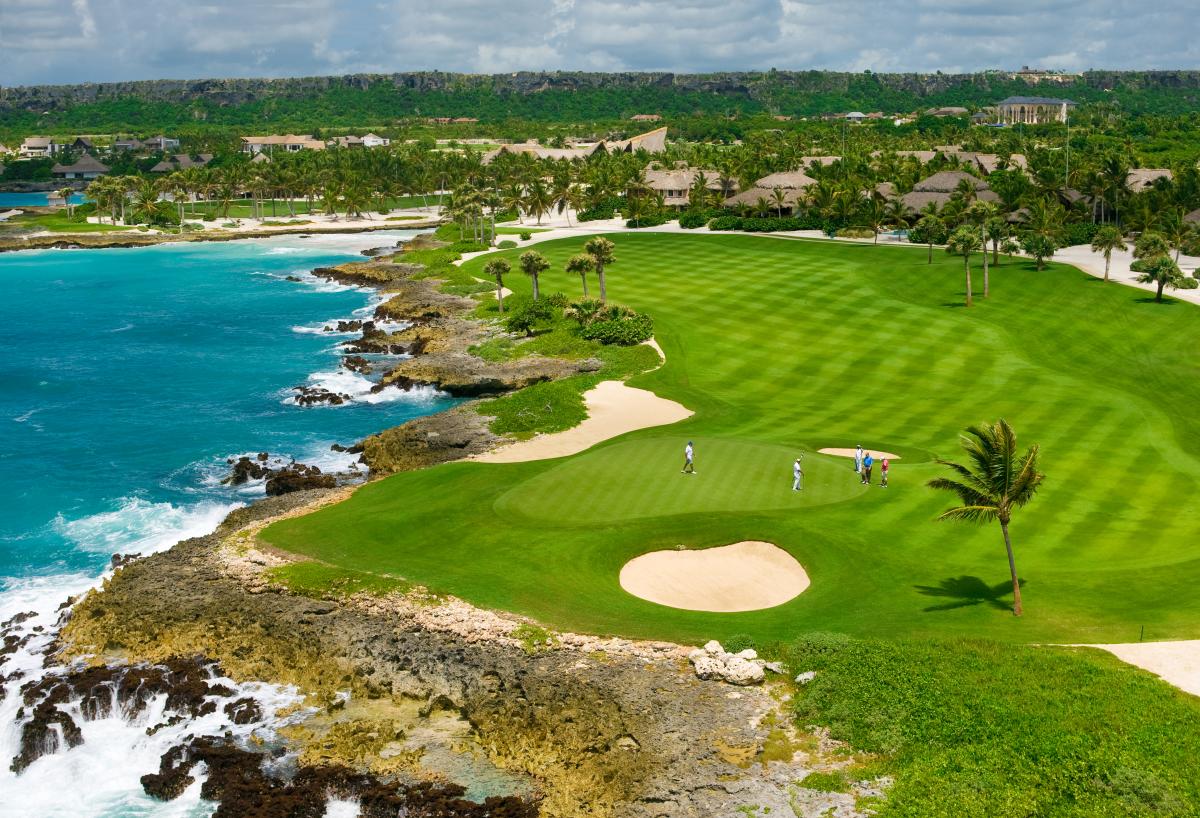 Cap Cana features a trio of Jack Nicklaus Signature golf courses, with Punta Espada being the first to be developed. Since its opening, it has garnered a reputation as one of the world's premier golf courses.
Get ready for an unmatched golfing adventure that caters to golfers of all proficiency levels. Punta Espada offers a delightful experience with fairways, water hazards, and sand traps that will test your precision and provide opportunities to enhance your game. You'll find everything you require to push yourself and elevate your skills.
The course features eight holes that run parallel or over the Caribbean Sea, including the magnificent par-4 17th, where players must carry their tee-shot over a bay. Additionally, there are five holes that offer breathtaking ocean views. Nicklaus skillfully incorporated the area's bluffs, beaches, lagoons, and tropical vegetation into the course's layout, making it a true masterpiece.
Punta Espada stands in a league of its own, promising to elevate your golfing experience to a whole new level. The course presents a significant challenge, thanks to its expert design, and players must exercise caution and careful planning to achieve a satisfactory score.
PUNTA ESPADA GOLF COURSE
Cap Cana, Punta Cana
Holes: 18
Par: 72; Yardage: 7,396
Designer: Jack Nicklaus
CORALES GOLF COURSE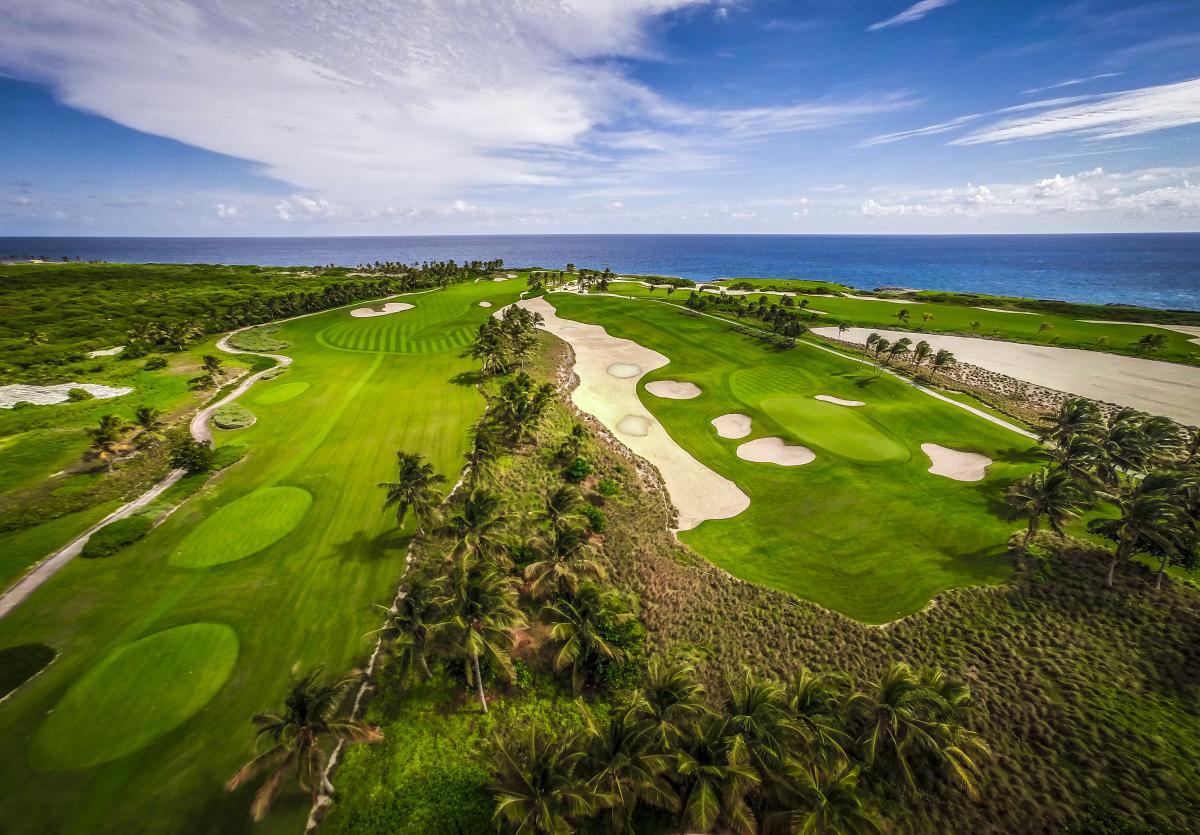 Corales Golf Course, which was designed by Tom Fazio, is a remarkable 18-hole course with six holes located alongside the Caribbean Sea. It was designed to follow the natural cliffs, bays, ocean coves, inland lakes, and coralina quarries, making it one of the world's most outstanding golf experiences.
The climax of the thrilling challenge is the Devil's Elbow, which consists of the last three holes. The eighteenth hole is particularly striking, requiring a dramatic forced carry over the cliff-lined Bay of Corales, providing a stunning end to an unforgettable golfing experience.
It boasts a magnificent layout along with its neighbor, La Cana. The courses are well-maintained and particularly noteworthy are the stunning views of the holes that run alongside the coast. Positioned on top of cliffs, these holes provide a thrilling challenge as players must hit the ball over the sea, adding an extra element of excitement to the game.
Corales is home of the first PGA TOUR Event held in the Dominican Republic in 2018 and it has taken place there every year ever since. In the Corales Puntacana Championship more than 120 professional players have the chance to earn points of the FedExCup.
CORALES GOLF COURSE
Puntacana Resort & Club
Punta Cana
Holes: 18
Par: 72; Yardage: 7,650
Designer: Tom Fazio
DYE FORE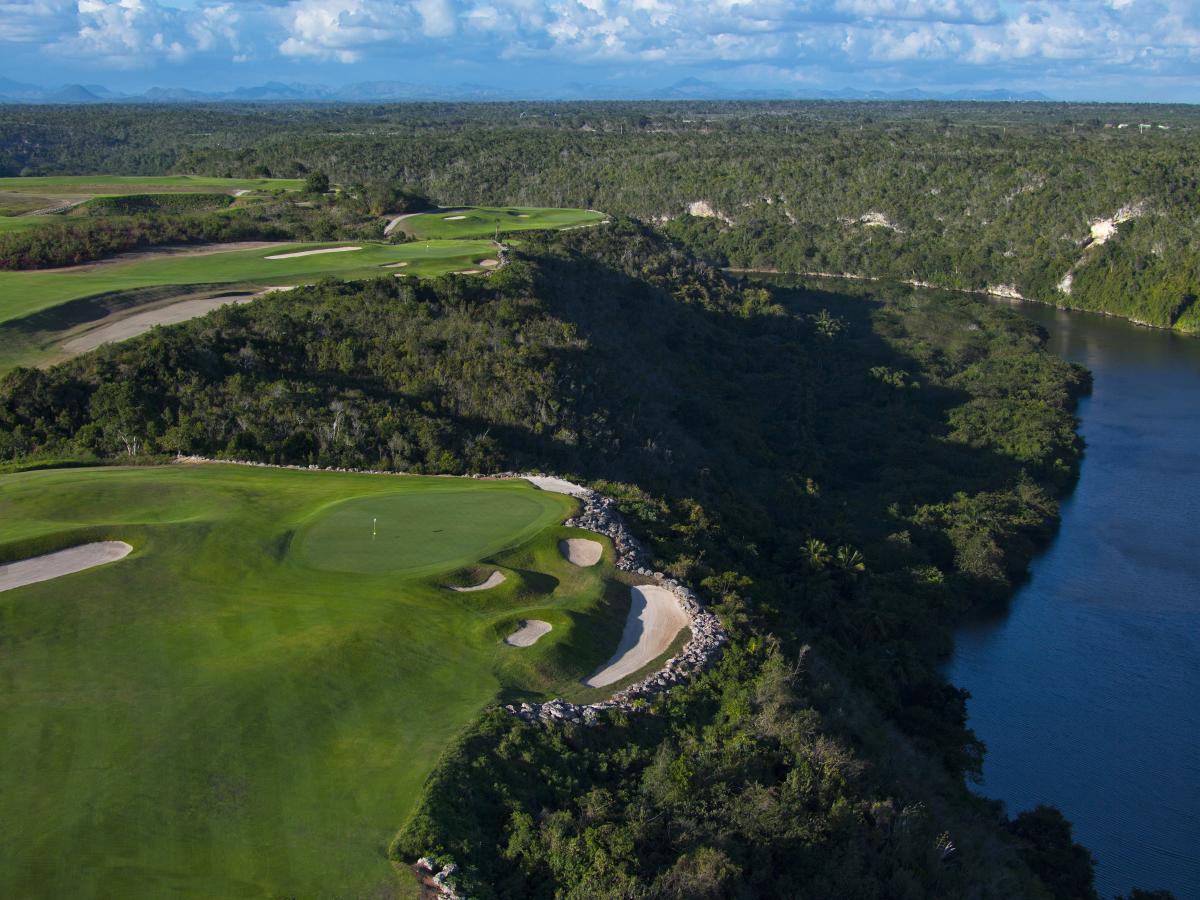 The magnificent Dye Fore golf course features 27 holes including 7 stunning cliff-side holes that drop 300 feet to the Chavón River. This course is truly a marvel. The breathtaking 360-degree views of the Dominican mountains, the Chavón River, the Marina, and Altos de Chavón are a sight to behold, and it's no surprise that this challenging cliff-side course is a favorite among players of all skill levels.
Holes 12 and 15 are considered some of the most challenging and spectacular par 3s in the world, thanks to their length and stunning cliff-side beauty. Additionally, there are 5 holes on the Lagos course where lakes come into play, adding an extra layer of difficulty. And with just one stroke, players can begin their journey towards an unforgettable round of golf.
Dye Fore golf course also incorporates subtle historic influences that blend seamlessly with the present Dominican landscape. These defining features make it a true masterpiece and a one-of-a-kind golfing experience.
It has three unique nines - Chavón, Marina, and Lakes. Chavón boasts seven impressive holes that run along the edge of cliffs, providing breathtaking views of the winding river 300 feet below. Marina offers a series of challenging holes that meander down to a picturesque harbor surrounded by restaurants and shops. Meanwhile, Lakes is skillfully designed across rugged terrain, emphasizing the importance of shot-making.
DYE FORE
Casa de Campo Resort & Villas
La Romana
Holes: 27
Par: 72; Yardage: 7,740
Designer: Pete Dye
LA CANA GOLF COURSE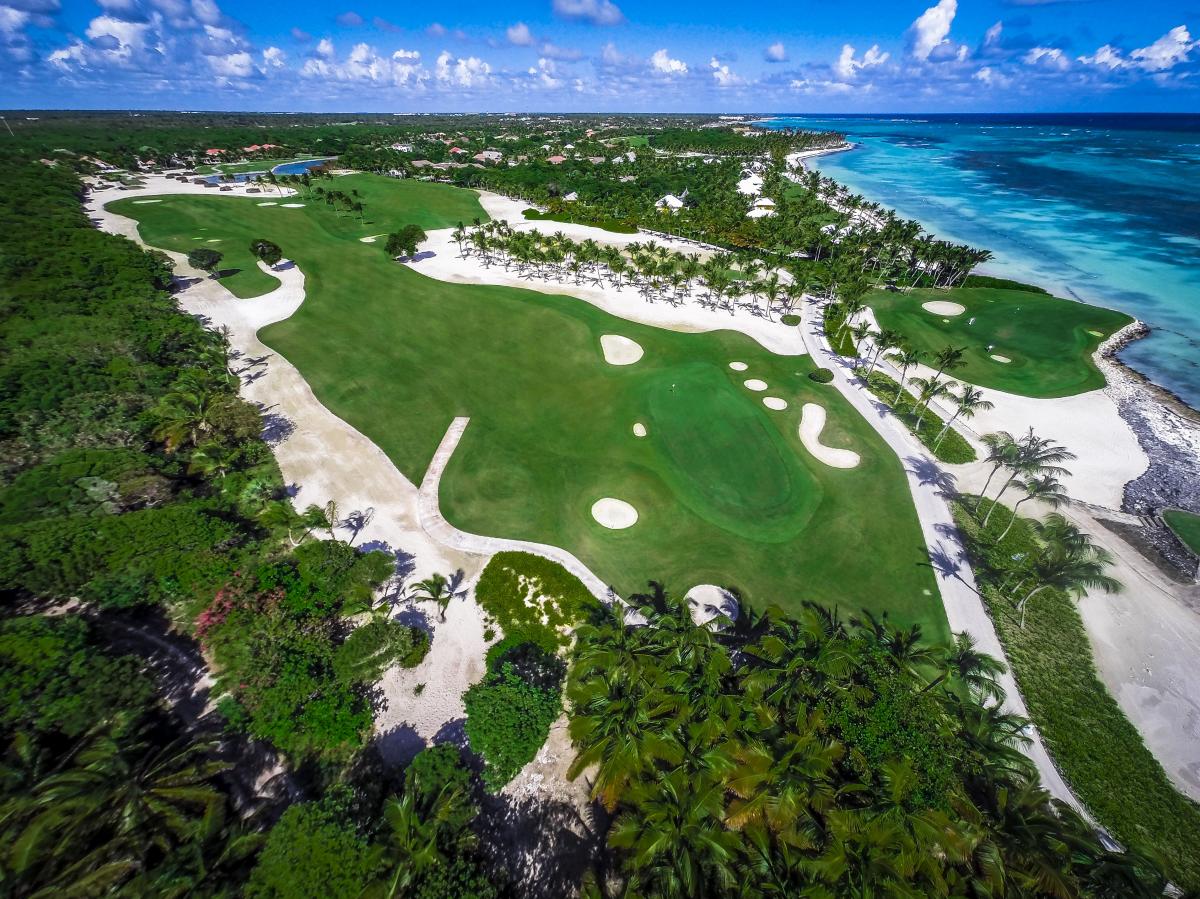 The La Cana Golf Course is a renowned 27-hole course, comprising three nines named Tortuga, Hacienda, and Arrecife. It boasts stunning views of the Caribbean Sea from 14 of its holes. Designed by P.B. Dye, this eco-friendly course was the first in the Caribbean to utilize paspalum grass seed, which can be irrigated with sea water. Golf enthusiasts from around the world consider La Cana to be one of their top choices.
The Tortuga and Arrecife nines offer breathtaking views of the Caribbean, featuring 14 ocean-view holes and four holes that are situated right on the beach. The Arrecife nine concludes with two magnificent fairways that hug the turquoise waters and greens that appear to touch the sea. Hacienda, which takes golfers inland through dense tropical vegetation, is both challenging and aesthetically pleasing.
La Cana's well-protected putting surfaces pose a serious challenge even for the most skilled players. The par-3 holes on the course are particularly noteworthy, with the narrow green of the 200-yard third hole bordered by a lake in front and to the left, the fifth hole being La Cana's first to play alongside the beach, and the 239-yard 14th hole featuring a long, multi-tiered putting surface that is hidden by tall dunes reminiscent of an Irish links course. La Cana is an excellent course for golfers of all abilities, and the relaxed atmosphere, combined with the wide, mostly flat fairways, makes it a pleasant experience for everyone.
Recently, the resort made a significant multi-million-dollar investment in the golfing facilities, resulting in the construction of the double-sided driving range at La Cana Golf Course. It features cutting-edge teaching technology, including V1 Golf Software, for video and computer analysis of players' swings. The Puntacana Golf Academy offers lessons from prestigious American and European PGA Professionals at these facilities.
LA CANA GOLF COURSE
Puntacana Resort & Club
Punta Cana
Holes: 27
Arrecife: Par: 36; Yardage: 3,676
Hacienda: Par: 36; Yardage: 3,768
Tortuga: Par: 36; Yardage: 3,483
Designer: P.B. Dye