The Dominican Republic is blessed in many ways. It has an impressive diversity of landscapes, an amazing coastline with over 200 beaches that can be used for tourism, endless summer, the most genuine hospitality, interesting history, lively entertainment and exquisite gastronomy, making it very special.
Cabarete is no exception of having a wide array of unique features. Its citizens, both local and international, seem to be handpicked to create the most perfect beach town where cool vibes rule and become a way of life. Kindred spirits somehow always find each other and end up forming a community naturally. Adventure travelers feel right at home here. There is no rush. Time seems to stop, and people have learned to live in the moment and to appreciate every single second of what mother nature gives us.
In Cabarete nature speaks to you. You will feel a new connection with the ocean. The warm waters of the Atlantic Ocean will rejuvenate you as you dance along with the waves; your lungs will be filled with the fresh ocean breeze as you see the palm trees swaying in front of imposing mountains; your day will start at the break of dawn with the sun rays painting the sky with magical tones; your day will be filled with heart-pumping adventures; at sunset, time will stop to take it all in and appreciate the natural light show in the sky and you'll enjoy the moment with your loved ones; and when the sun waves goodbye, another side of Cabarete will awaken and you'll experience the most exciting nightlife. All of this will inevitably touch you and get you to have a new vision of life.
Where you become a local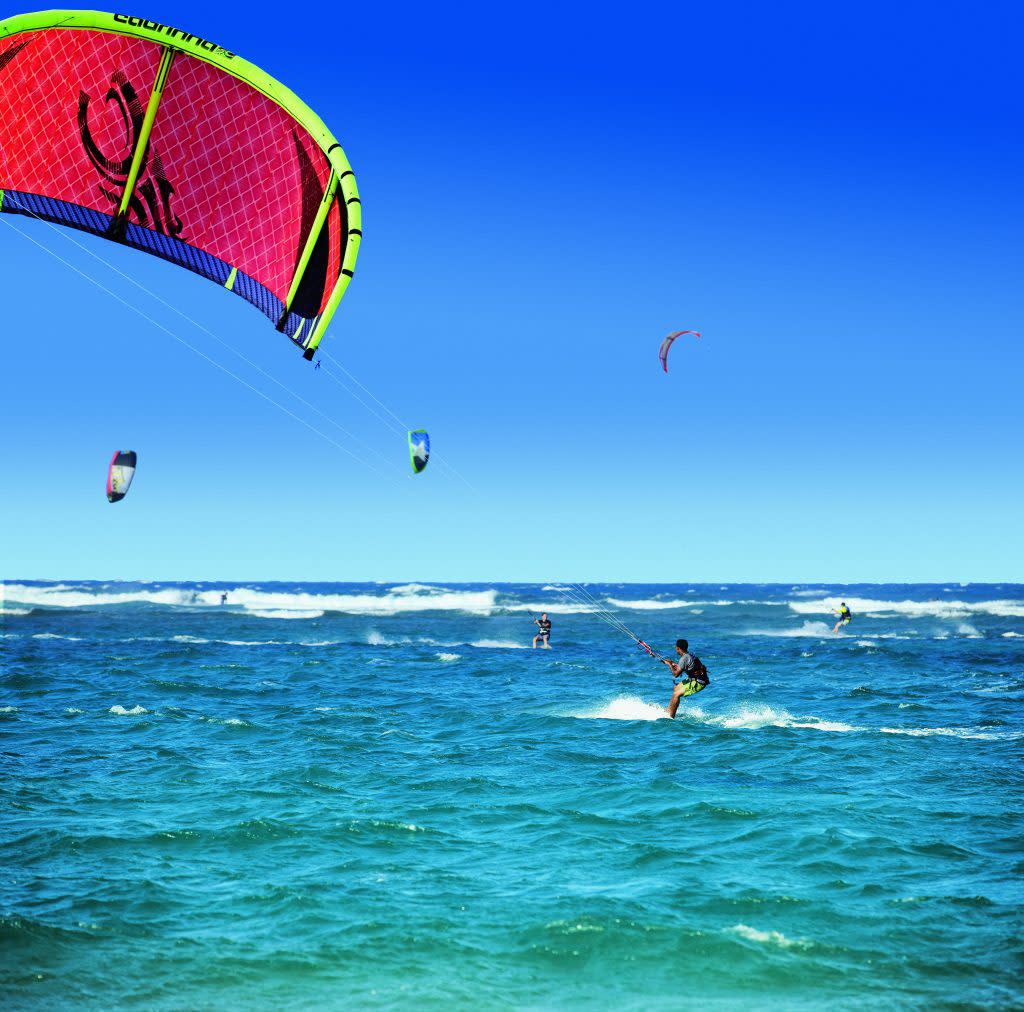 There are countless stories of tourists who have come to Cabarete by chance and have decided to settle there and have been living happily for over ten years ever since. They just don't see themselves living elsewhere because no other place compares to it. It is also a favorite for digital nomads for its laid-back atmosphere.
The local's way of life is contagious. Once you experience this infinite state of bliss there is no going back, your life will never be the same. It feels like magic. It's like wearing glasses for the first time and seeing everything clearly before your eyes.
The way you'll connect with the locals is going to be an experience like no other. There is no other place in the world where you'll feel more at home than in Cabarete. That is the true magic of this place. The locals take it upon themselves to make you feel welcome and that is something that's not trained or even planned, it's just the way they are. There is no localism, they'll share the beach with you and make sure everybody joins together and become part of the community that they cherish so deeply.
Be a SoulSurfer or a WindMaster all year long
It is truly remarkable how Cabarete has the perfect conditions to practice seven of the most popular water sports: Surf, Kitesurf, Bodyboarding, Windsurf, SUP, Wing Foil and Laser Sailing. Year-round constant trade winds and steady wave conditions seem tailor-made for these disciplines. No matter your level of expertise, you'll have a blast doing what you love and will always feel encouraged to master your skills while having the time of your life.
That is why Cabarete has earned the name of Surf and Wind City. known for a long time as the Water Sports Capital of the Caribbean, each year several international competitions take place thanks to its wind and swell conditions. Here, you can truly be what you want in a place that has it all. You can be a WindMaster or a SoulSurfer, and most importantly, be a part of this one-of-a-kind vibrant community where you can find yourself.
RISE AND SHINE: SURF'S UP IN PLAYA ENCUENTRO!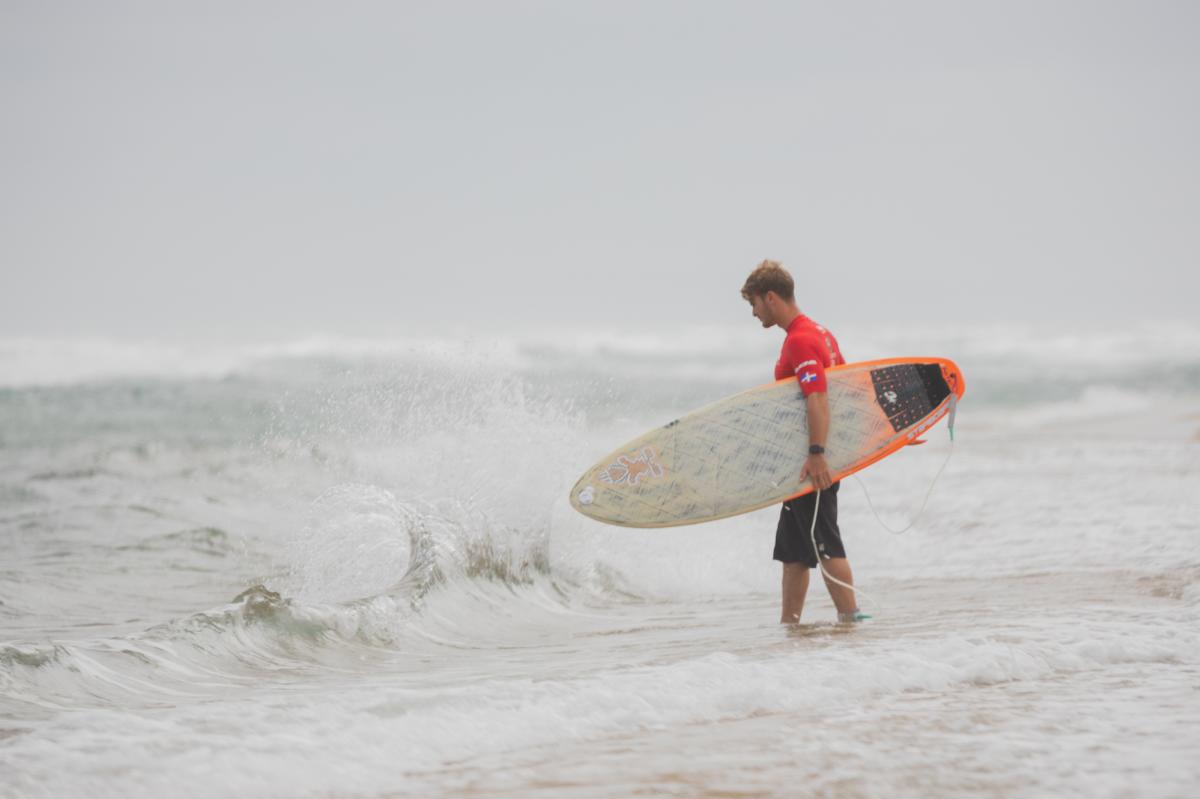 An awesome day has just begun. You get up and head to the beach with your travel buddies for an early morning beach-front yoga session. The sun salutations will stretch your body and fill it with positive vibes.
Surf's up! It's time to catch some epic waves at Playa Encuentro, the top surfing destination in the Dominican Republic, which attracts surfers from around the globe. This top-notch beach is famous for its consistent waves and warm waters, making it an ideal spot for surfers of all levels. The friendly locals will greet you and show insider's tips on how to tackle the waves.
The swell is created by a reef break that creates a fast and powerful wave that is perfect for experienced surfers. However, there are also some mellow waves that are great for beginners. There are more than five different types of breaks, ranging from beginner to advanced according to the level of difficulty. The best months to surf In Cabarete are from October to April, but even in the summer you can find nice waves, which are ideal for Amateurs.
Surfing Lessons and Rentals
If you're new to surfing, there are several schools in Playa Encuentro that offer lessons for all levels. They provide equipment and experienced instructors who will teach you the basics of surfing, including safety, paddling, and catching waves.
For experienced surfers, there are several surf shops that offer surfboard rentals. These shops have a wide selection, including shortboards, longboards, and funboards. They also offer repairs and waxing services.
In short, with its consistent waves, warm waters, and friendly locals, this beach is a surfer's paradise. Whether you're a beginner or an experienced surfer, there's something for everyone. So, grab your board and head to beautiful Playa Encuentro for an unforgettable surfing experience where you can be a SoulSurfer.
AFTER LUNCH: KITE SURFING IS WHAT'S UP!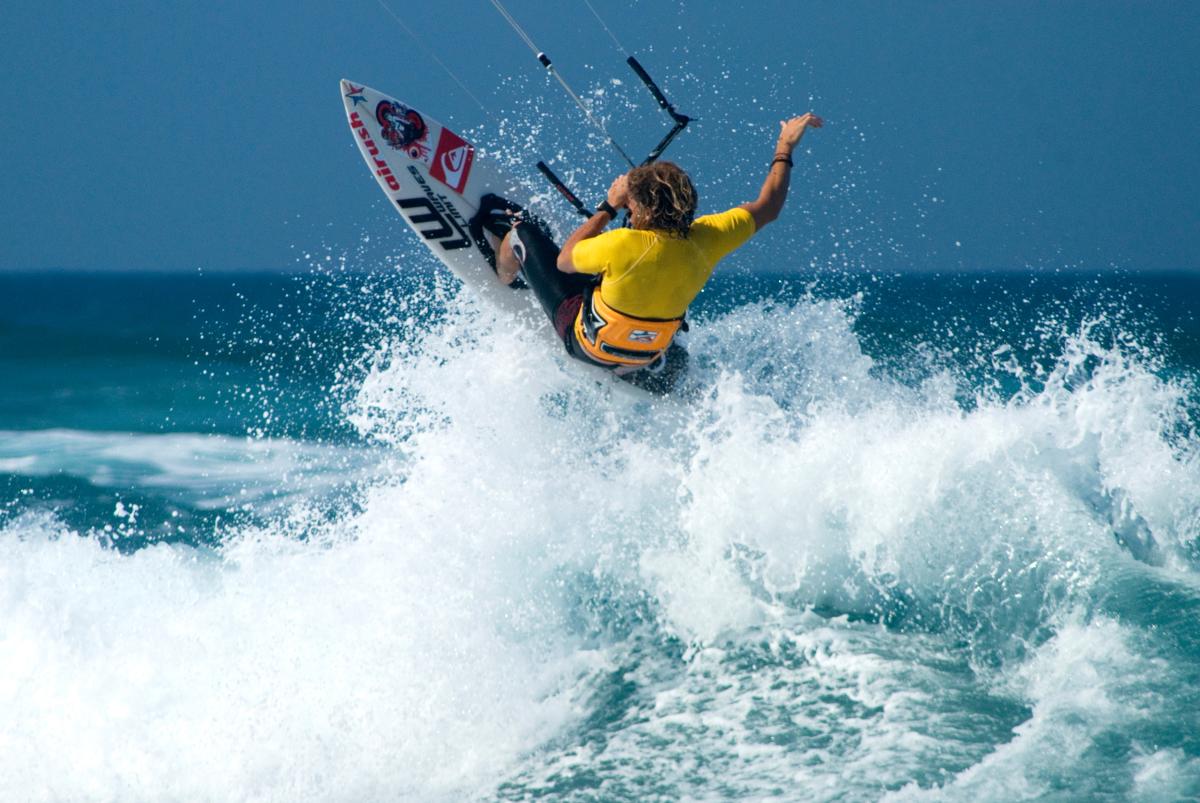 It's yummy o'clock, time to experience a fusion of flavors in Cabarete's gastronomy scene, where fresh seafood, tropical fruits, and local spices come together to create a culinary adventure like no other. A variety of specialty restaurants line Cabarete's main street or are located right on the beach, as not to miss all the water sport action. After chilling with the locals and sharing some laughs, it's time to hit the beach and soar across the sky.
Kitesurfing in Cabarete, more than a passion it's a way of life. Just like baseball in the rest of the country, it is ingrained in people's mind from a young age, so it is part of everyday life. You can see kids learning skills and performing awesome tricks, which is cool and adorable at the same time. Here women feel safe and are not at all shy to show how awesome they are. There is a community of kitesurfer women and yoga retreats are very popular.
Kitesurfing options located a very short distance away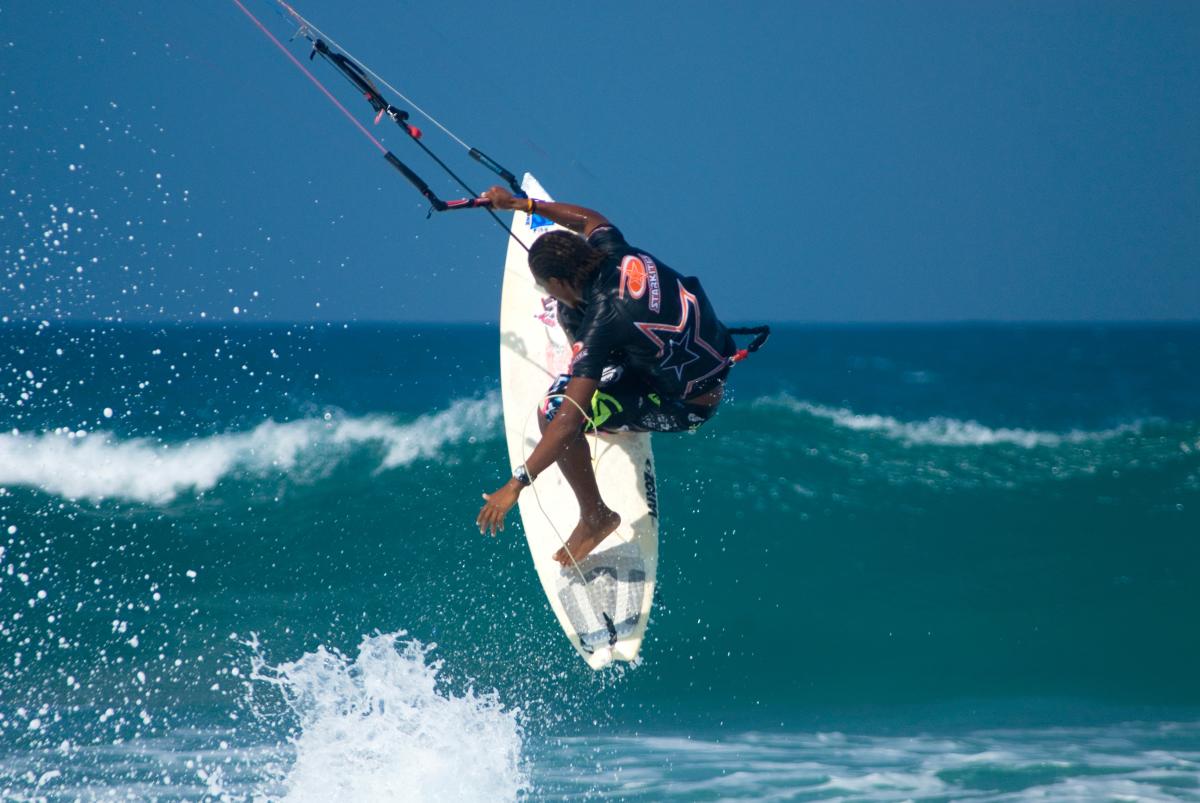 Kite Beach has that name for a reason. This is it. It's the place to be because it offers the best kiting conditions even though it is smaller than Cabarete Bay. There is almost flat water on the inside, ideal for beginners and advanced riders alike. On the outside, there are strong waves breaking on the reef offshore, so you can have different experiences even on the same day. This is a great place for learning and improving your skills and the locals will be right there with you cheering you on and sharing their cool tricks.
Cabarete Bay or Playa Cabarete is the center of all the action, it's the downtown area. There's plenty of space for swimming and relaxing as well, facing many restaurants, bars, shops, and lounges. This is the largest beach area, but it is shared with windsurfers, so kitesurfers need to pay more attention to the right of way rules.
La Boca is the river mouth of the Yásica river with great downwind, where experienced kitesurfers can have a blast maneuvering the flat waters around the changing serpentine river surrounded by mangroves. It's a great option for days that are not that windy and for SUP sessions in the morning.
Encuentro Beach is a great kite wave spot in the afternoons.
The perfect year-round wind conditions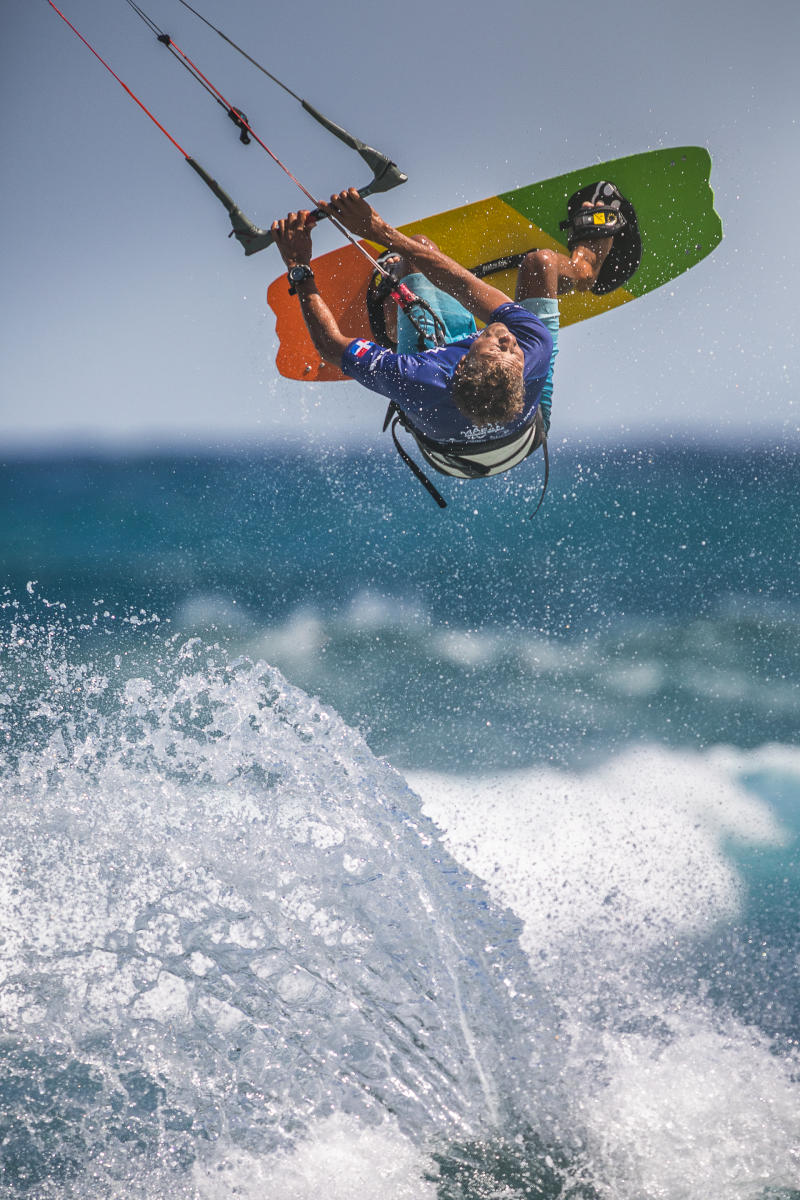 Cabarete usually has around 250 to 300 days of "kitable" wind per year. It has thermal winds in the summer, storm fronts in the winter, and year-round trade winds, making it a very reliable wind system. December to February is the busiest regular tourist season. June through August is kitesurfing/windsurfing season because of the consistent thermal winds. Generally, there is good wind from December until April.
It is generally windier in the afternoons, with the wind picking up around midday and peaking in the late afternoon. The wind can be affected by weather patterns and other factors, so it's always a good idea to check the forecast before heading out.
Kitesurfing lessons and rentals
Cabarete is home to several kitesurfing schools, where you can take lessons from certified instructors who will teach you everything you need to know to get up and riding. Most kitesurfing schools offer a range of lessons, from beginner to advanced, and use the latest equipment to ensure your safety and comfort.
There are several places where you can rent kitesurfing equipment, mainly in kitesurfing schools. It's always a good idea to book your rental in advance, especially during high season (December to April).
EVENING COMES: CABARETE BEACH IS WHERE THE PARTY'S AT!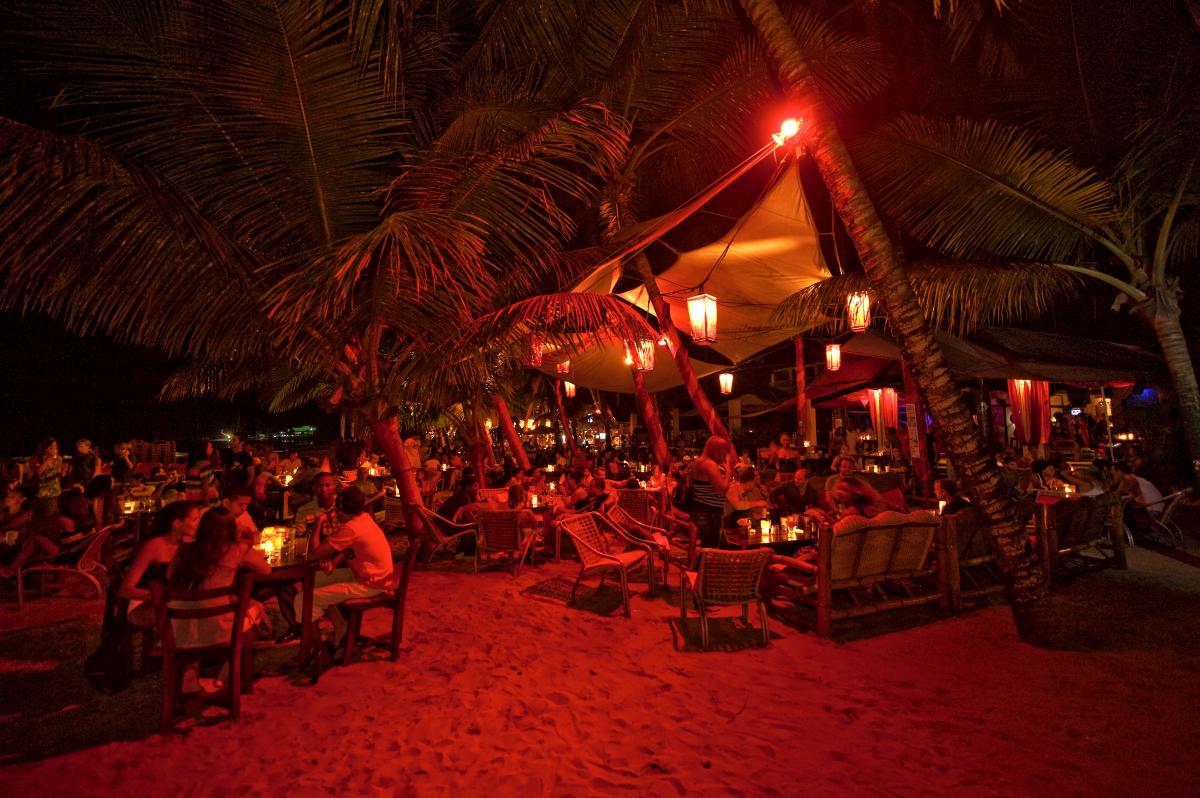 In Cabarete, when the sun goes down a whole other side awakens, and it's so much fun! The laid-back atmosphere remains in the evening, as most bars and restaurants are located right on the beach with stunning views of the ocean and the star-filled and moonlit sky.
It is known for its vibrant nightlife scene, with plenty of bars and clubs to choose from. It is a lively party spot with live music, dancing, delicious cocktails, open-air dance floors, themed parties and top-notch DJs. It's the perfect spot to dance the night away and keep having fun with the friends you met during the day. International festivals take place every year, like jazz or electronic music, plus every time there is a water sport competition, there are parties where all the athletes and locals meet.
Overall, Cabarete has a lively and diverse nightlife scene, offering something for everyone, whether for dancing until dawn or for a more relaxed night out.
FOR YOUR NEXT SURF OR KITESURFING ADVENTURE DON'T FORGET:
Your equipment, owned or rented.
You don't need a wetsuit.
Backpack/cash.
Reusable water bottle/containers/cutlery to avoid single-use plastics.
Repellent/sunscreen/sunglasses/cap.
First aid kit.
Open mind and good vibes.
Plastic bags to carry your trash.
Let the only footprint be your feet on the sand.
Source:
https://www.youtube.com/watch?v=yJewjBYjrW0
https://www.youtube.com/watch?v=20J0yy0QTlE
https://www.youtube.com/watch?v=lSfcDq9_B20
https://www.godominicanrepublic.com/poi/beaches/puerto-plata/playa-encuentro/
https://www.godominicanrepublic.com/poi/beaches/puerto-plata/playa-cabarete/
https://www.bahia-cabarete.com/kitesurfing-in-cabarete/
https://cabaretekitepoint.com/wind-season-cabarete/