Travel to Dominican Republic
Get Ready.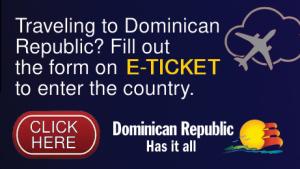 You're heading to the heart of the Caribbean–to the second largest, most geographically diverse country in the region. Occupying the eastern two-thirds of Hispaniola, the Dominican Republic is also the Caribbean's #1 most visited destination. As of 2017, six million travelers descend on our shores every year to bask on our iconic, palm-studded white sand beaches, and relax in our colorful coastal villages.
Prepare for a hassle-free stay with our essential DR travel tips. Choose the best entry point–whether you fly, cruise, or sail–know what weather to expect, and bring the right documents. Craft your own DR overland adventure, thanks to our modern highways and vast transportation network. You'll go beyond our beaches onto our colonial cities, our fertile campo–or countryside–pine forests, and 8,000 ft peaks.
Got a question? Browse the FAQs, or get in touch with a DR tourism office near you. We love to hear from our visitors.