WANDA'S JOURNEY
Winter is finally here, and Wanda the humpback whale's amazing life adventure is about to begin. She has been comfortably traveling inside the belly of her loving mother from the freezing waters of the Gulf of Maine, in the North Atlantic, heading south. Her mom is swimming at full throttle because she just can't wait to return to the magical place where it all began for her: the warm waters of the Dominican Republic. 
They are not alone. Thousands of humpback whales that spent the spring and fall feeding from Canada to Norway make the long journey south because they have the same yearning to spend the winter in their homeland, the Silver Bank or the Samaná Bay, in the DR. This is a tradition that has lasted over 50,000 years.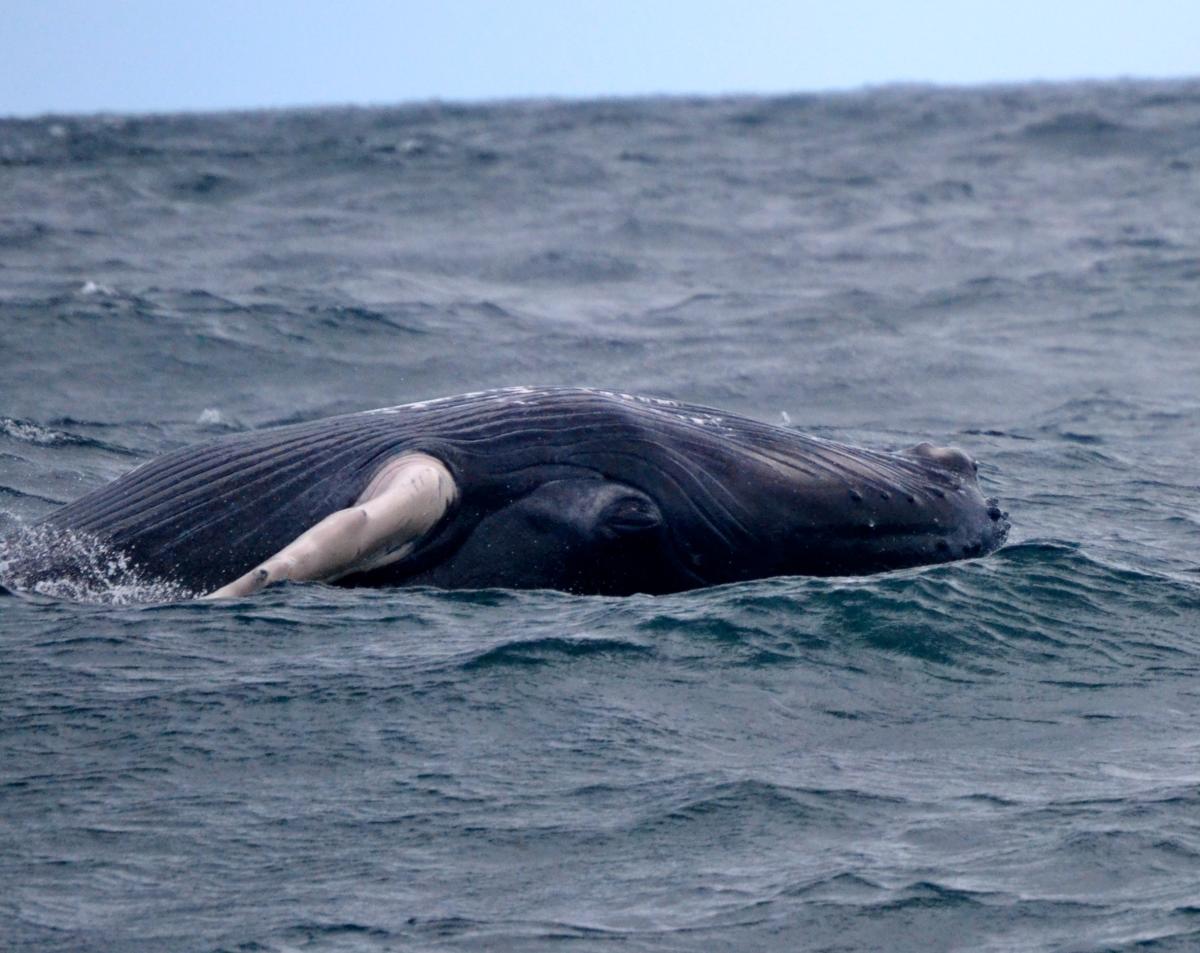 As Wanda's mom starts approaching the Dominican coast, she is pleased to get glimpses of the imposing landscape around her. She approaches her destination, the Samaná Bay, and can't help but feel a surge of excitement to come back home.
The time has finally come to share with her little Wanda the place she loves so much. The warm waters welcome Wanda into this world. The day turns into a celebration and the little one's adventure has just begun.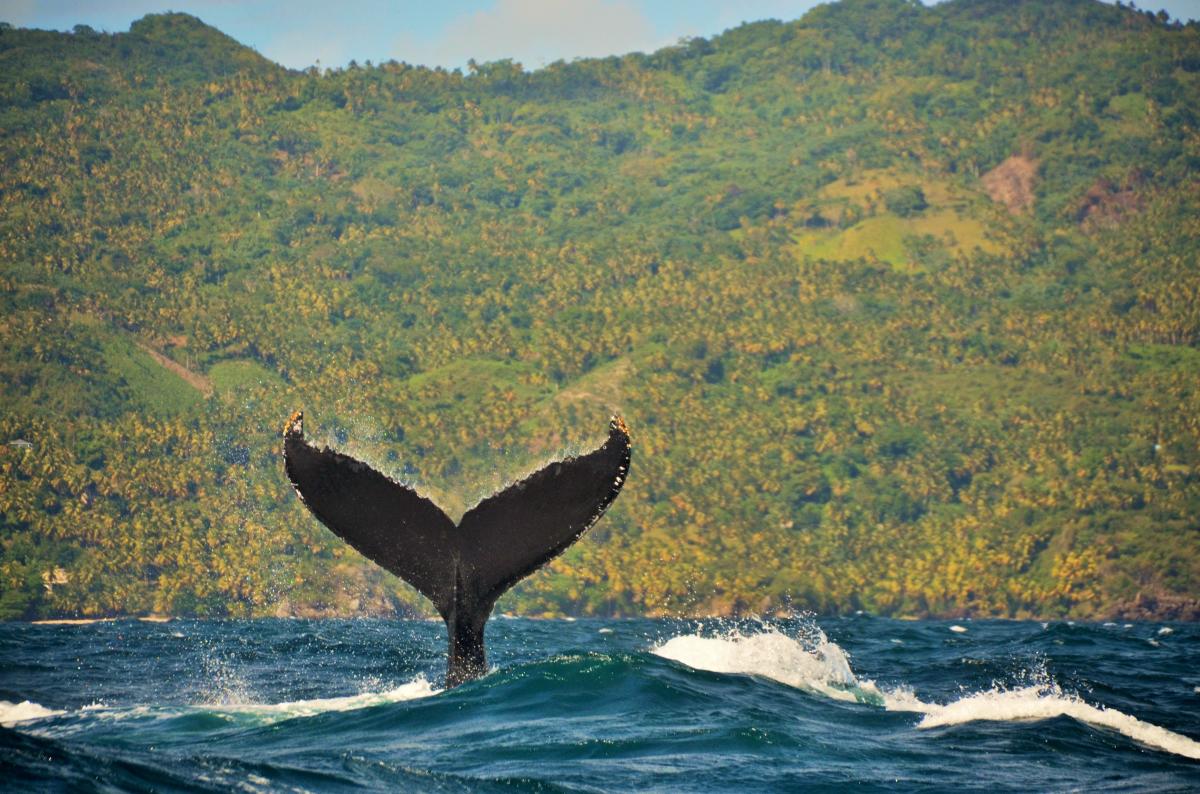 Her mom proudly shows her the new home. Wanda cannot believe her eyes, her eyes are dazzled by such beauty. She takes peeks out of the water and sees green hills surrounded by palm trees that dance to the rhythm of the gentle sea breeze, and mountains that kiss the sky.
She starts to see for herself why so many humpback whales come to Samaná. There is something beyond extraordinary about this place. There's so much life and a cool vibe to it that you cannot explain, you just feel it. The ocean is teeming with marine life and Wanda is full of joy. She wants to play all day and take it all in. Her mother is always by her side teaching her lessons that will guide her through her lifetime. 
They start jumping and splashing, playing in the turquoise water, and see some peculiar creatures looking at them in amazement from floating objects while smiles appear on their faces. Her mom tells her that they are called humans and that they are friendly to the whales. They always come to greet them and are excited to see them, giving them their space and taking care of them so they keep coming back.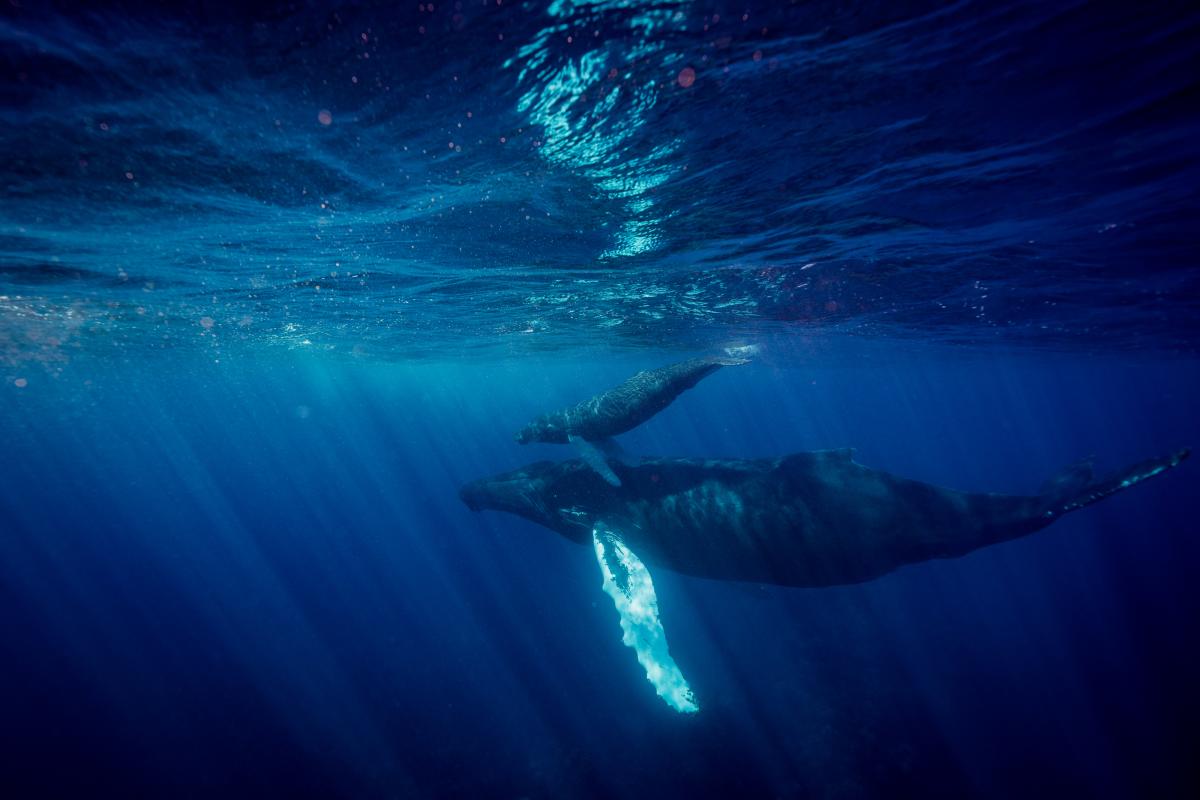 A beautiful melody travels in the water from a distance. The ocean becomes a stage. The colorful coral reefs, besides adorning the ocean floor, become natural amplifiers for a precious symphony.  Male humpback whales have been practicing to improve the song that they have learned to court the females. They play hard to get, so they must put on a show. 
Males gracefully dance under the water and slap the surface with their tails and flippers to show off their "muscles" and jut out of the water creating an outstanding spectacle that no female can ignore, an absolute delight for the humans who are watching. Competition can get a bit fierce, so some clever gentlemen escort the ladies and their babies to keep them safe and while they're at it, get some bonus points for the next mating season.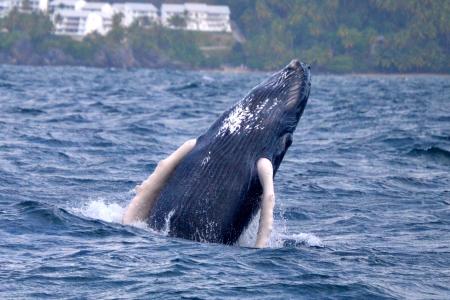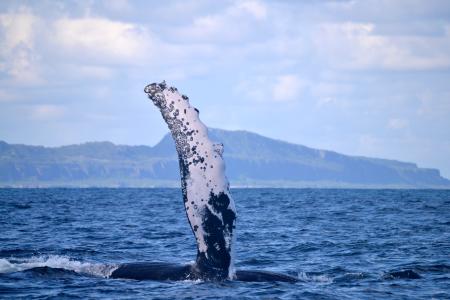 All through the winter Wanda keeps having a blast and taking mental notes of all she learns from her mother. Winter comes to an end and it's time to leave her happy place behind, the Samaná Bay. There is a delicious feast of krill wailing for her mother in the North Atlantic Ocean. She has been breastfeeding Wanda but has not eaten all season because whales only eat in the northern feeding grounds. 
Nature always has the perfect balance. Wanda and her mother enjoy the warmth and infinite beauty of the Samaná Bay and in return, they create oxygen and pump nutrients throughout the ocean. Marine ecosystems benefit, including the growth of phytoplankton, which absorbs a massive amount of carbon from the earth's atmosphere. You, as a captive audience of this beautiful spectacle, become a storyteller of tender marine stories, which, like this one, make you live exciting chapters.

THE HUMAN JOURNEY 
Seven years have passed and now Wanda is all grown up and ready to become a mother herself. She never forgot that first winter when she fell in love with the Samaná Bay, so she kept coming back each year to create new memories in her happy place and met many humans on each trip. Some became good friends. 
It's winter again and she's on her way back home. Would you like to meet Wanda, and thousands of humpback whales like her? Dominican Republic is only a short flight away. Whale watching season runs from January to March, so there's still time for this life-changing experience. 
When you get to the town of Samaná, you will board a boat and learn all about humpback whales on the way to see them. Authorized tour companies show you how they identify each whale as individuals by taking photographs of their tail flukes and dorsal fins. Each tail fluke is different, just like a fingerprint. They share that data with scientists all around the world to keep track of individuals. Several whales have been identified on different seasons for the last 25 years. 
You'll get mesmerized by the impressive 360-degree view of the entire Samaná peninsula, Cayo Levantado and the mainland across Samaná. Dominican Republic is one of the top 10 places in the world to see humpback whales and there is a very high chance of seeing them. It's very emotional. Some people laugh, some people cry. It's inevitable to feel a special connection with them.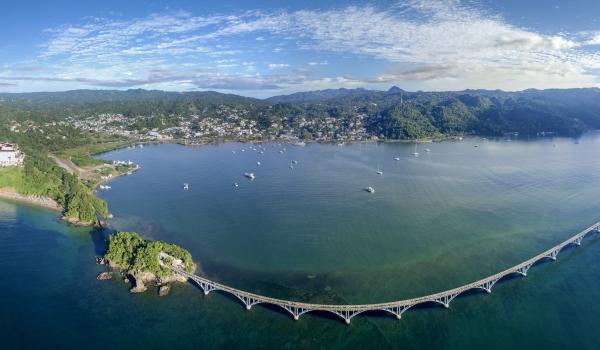 To watch whales is to become an activist, an environmental lover, a student of marine mammalogy, a captive audience aware of the importance of having a healthy ecosystem, a storyteller of the ocean... You can be anything you want watching these majestic creatures.
When you get to the designated area, the boat will stay on motionless as not to disturb the whales. Keep your eyes peeled for these gentle giants who swim freely all over the bay. Watching these massive creatures suddenly emerge from the water will be the most astonishing moment of your life. You'll feel like they're putting up a show just for you. Moments like this deeply touch you and have a way of changing your perspective about life. 
You'll just sit back and feel humble before lovely giants that show you how small you are before the greatness of nature. There is no better way to connect with nature. This experience will certainly turn into one of the best chapters of your life. After this, you'll become a wildlife conservationist and a marine storyteller, sharing how much whale watching meant for you and doing everything in your power to preserve their habitat.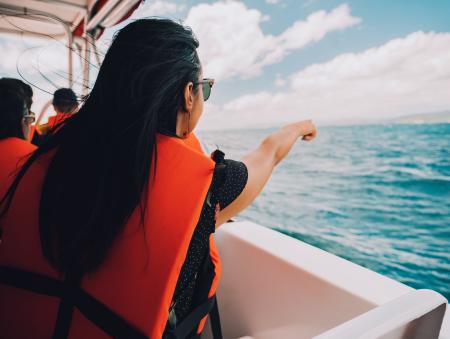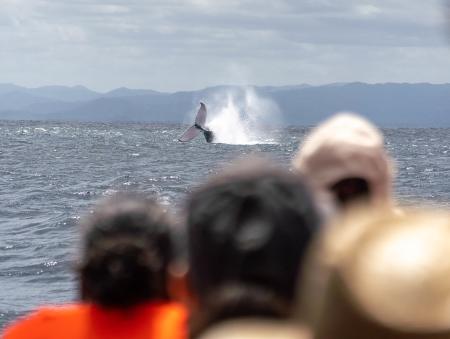 85% of North Atlantic humpback whales are born in the Dominican Republic, so the Dominican Government has strict regulations to ensure the protection of the whales and the safety of all passengers. There is a limited amount of tour companies that are authorized to operate by the Dominican Ministry of Environment. Most companies have been operating for over 25 years, so they dedicate their lives to the protection of the whales. 
Humpback whales are almost sacred in Samaná. They have become a symbol of the province. You can see them in sculptures, jewelry, crafts, clothing and in the carnival. Citizens love the whales and do everything in their power to protect them. 

WHALE WATCHING AT THE SILVER BANK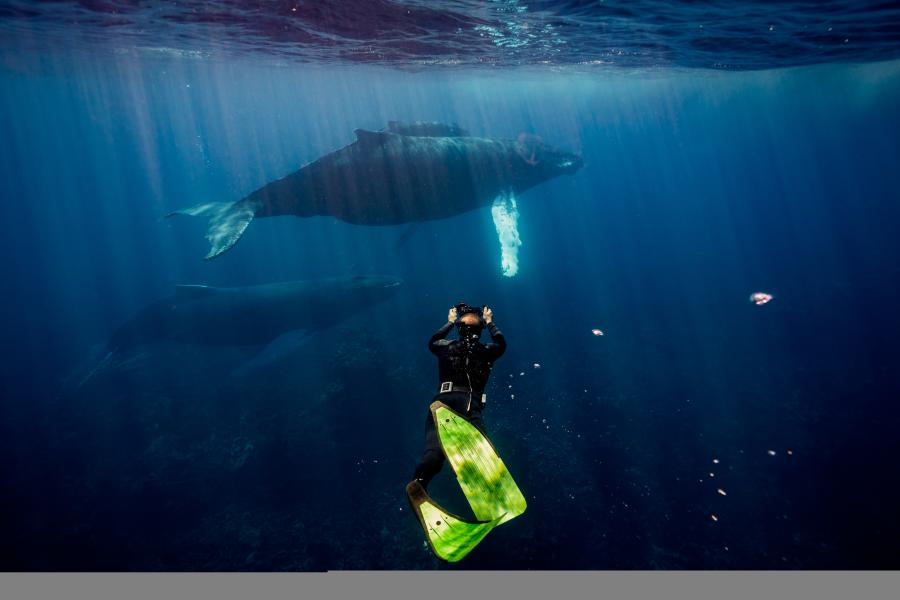 Situated roughly 80 nautical miles north of Puerto Plata, the Silver Bank Sanctuary is one of only two areas in the entire world where nature lovers can experience an in-water encounter with humpback whales in a legal and environmentally conscious way. Experience passive in-water whale encounter (PIWWE). It is passive, non-aggressive floating at the surface, in mask, fins and snorkel, allowing the whale to develop an interest in humans on their terms. 
Come face-to-face with these gentle giants, witnessing and learning about their courting, mating and calving behaviors first-hand. The Silver Bank is home to the largest population of seasonal migrating humpbacks in the North Atlantic Ocean, if not the world.

ABOUT HUMPBACK WHALES
Humpback whales (Megaptera novaeangliae) live in all oceans around the world. They travel great distances every year and have one of the longest migrations of any mammal on the planet. Some populations swim 5,000 miles from tropical breeding grounds to colder, more productive feeding grounds.
The humpback whale gets its common name from the distinctive hump on its back. Its long pectoral fins inspired its scientific name, Megaptera, which means "big-winged" and novaeangliae, which means "New England," in reference to the location where European whalers first encountered them. Humpback whales are a favorite of whale watchers―they are often active, jumping out of the water and slapping the surface with their pectoral fins or tails.
They can be found close to shore and often display activities near the surface, such as breaching (jumping out of the water) or slapping the surface with their pectoral fins and tails. During the warmer months (and occasionally into cooler months), humpback whales spend most of their time feeding and building up fat stores (blubber) to sustain them throughout the winter.
Humpback whales reach sexual maturity between the ages of 4 and 10 years. Females produce a single calf every 2 to 3 years on average, although annual calving has been documented in some individuals. Calves are born after an 11-month gestation and measure about13 to 16 feet in length. Calves stay near their mothers for up to 1 year before weaning. Mothers are protective of their calves, swimming closely and often touching them with their flippers.

Quick Facts
COMMON NAME: Humpback Whale
SCIENTIFIC NAME: Megaptera novaeangliae
TYPE: Mammals
DIET: Omnivore
GROUP NAME: Pod
SIZE: 48 to 62.5 feet
WEIGHT: 40 tons
LIFESPAN: About 80 to 90 years
REGION: Alaska, New England/Mid-Atlantic, Pacific Islands, Southeast, West Coast

FOR YOUR NEXT WHALE WATCHING ADVENTURE DON'T FORGET:
Waterproof backpack/cash.
Fully waterproof cell phone or camera protector.
Reusable water bottle/containers/cutlery to avoid single-use plastics.
Repellent/sunscreen/sunglasses/cap.
Plastic bags to carry your trash.
First aid kit.
Life jacket/towel.
Open mind and good vibes. Let the only footprint be your feet on the sand.
Source:
http://www.whalesamana.com/index.html
https://samana.org.do/museo-de-las-ballenas/
https://www.fisheries.noaa.gov/species/humpback-whale
https://www.youtube.com/watch?v=8fwxRuiH7ak
https://nammco.no/humpback-whale/#1475843212917-9abc9066-9674
https://www.nationalgeographic.com/animals/mammals/facts/humpback-whale#:~:text=Humpback%20whales%20are%20found%20in,European%20whalers%20first%20encountered%20them